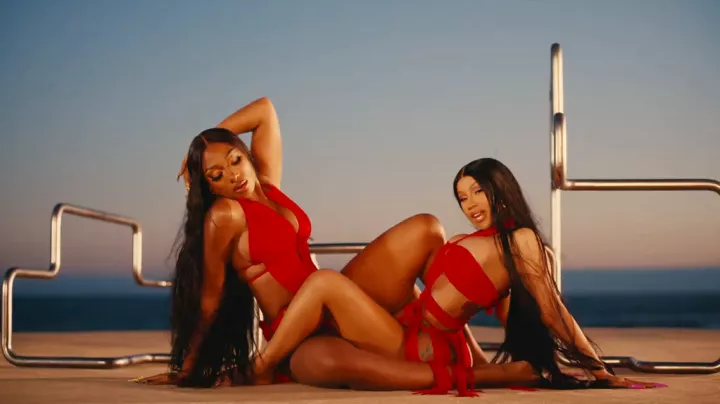 The last time Cardi B collaborated with Megan Thee Stallion, we got 2020's epic #1 single "WAP." Tonight, the pair are releasing "Bongos," and I'll give you exactly one guess as to what it's about. Opening up to DJ Whoo Kid on his Whoo's House SiriusXM show, Cardi gave a preview around what to expect from "Bongos," noting: "I wonder how people are gonna react to this vibe because they're really like expecting 'WAP,' like, 'oh, here they go again talking this and that... We are talking a little, you know, about some pussy, but not like 'WAP'-type of stuff."
About the "intricate" and "beautiful" video, Cardi added: "It's a different theme, and the video is like a whole complete different type of theme... We worked so hard on the music video. You're gonna see... that's thought put into that."
On returning to work with Megan, Cardi said: "It feels good [to get back into the game]... it makes me feel good that she trusts me. I'mma give my all. Not only am I doing this for myself, [but] 'I want you to trust me.' We trust each other."
Cardi also talked through the recording process:
The part where Megan is kind of at in the song, because we chopped the song a lot, like the part where like she's at, it be like "Bong, bong, bong," and I was planning for that to be the hook, but it just sounded so incomplete. Then, we just like, "This song needs a feature," so it's like a lot of people wanted it to go the Spanish route with it and I'm like, "I could see that." I could see that, definitely. Of course, like you could feel it, but I was like, "I feel like I hear Megan on this." It's like, "Really? You don't think that It's more like of the Latin part," and I'm like, "Yeah, but I hear her on this. Like, I know it. I know I could hear her on this."
Finally, Cardi gave an update around a possible new album, telling DJ Whoo Kid how she's keeping a title "under wraps." She continued, "I'm kind of still working, but I have a date in mind." That date, FYI, is not in October, Cardi's birthday month. "I don't want nothing coming out in the month of October. October is my month," she said.
Watch "Bongos" below.
If you do not see a download button or the download button is misbehaving, kindly turn off your ad-blocker or try another browser.