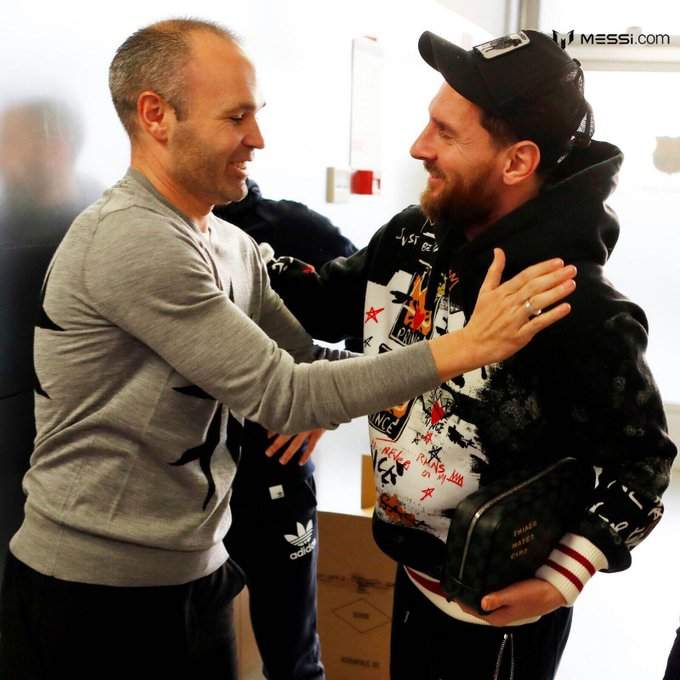 Andres Iniesta has joined former Barcelona teammates in drumming support for Lionel Messi after Brazil legend Pele claimed the Argentine.
According to Give me football report, Pele blasted Messi after Luka Modric claimed the 2018 Ballon d'Or, with the Argentine finishing fifth out of 30 players nominated.
Pele started by stating that Messi cannot be compared to himself and Diego Maradona, who according to him can hardly shoot with both feet and score with his head.
He said: "Only shoots with one leg, only has one skill and doesn't head the ball well."
Interestingly, Pele's comment about Messi has now attracted more backslashes from Barcelona teammates, who have been calling out the Brazilian, with Jordi Alba insisting his Barca mate is the "best in the world by some distance.
"Pele must not be able to see very well if he says what he says about Leo," Alba stressed.
"It seems like a lie that someone in the world of football could speak like that," the Barcelona defender was quoted as saying by Sport.
In the same vein, club icon Iniesta has taken out time to state his own view about Pele's comments, by giving his opinion on the issue.
"I do not want to answer what Pele said," Iniesta noted during a recent promotional event, according to Marca report, "but he (Messi) is the best player in history.
"He's got all the records: headers, skills, right-footed shots, left-footed shots - I have not seen anyone do what he does and every year he exceeds my expectations.
"[Being] fifth [in the Ballon d'Or voting] is not an insult, but for me he is the best. It would be bad to say that it was unfair for Modric to win, he had a great season," Iniesta submitted.