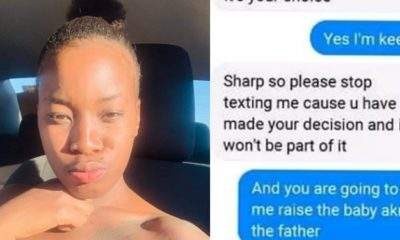 A lady had shared her conversation with her ex boyfriend who allegedly got her pregnant and refused to accept responsibility of the child.
According to the lady, her ex boyfriend made her go through depression in the name of love, got her pregnant and has now denied responsibility of the child.
Sharing screenshots of their conversation, she wrote;
"This guy is my ex boyfriend who made me go through depression all because of love. Cleo Radebe got me pregnant and now he doesn't want anything to do with me or the baby. Judge all you want I don't care. This hypocrite made me the bad person I was not.
I tried by all means to get help from his family but their delaying me and I'm getting out of patience. By what his mom is saying, Cleo haven't been home since they told him why he got me pregnant and doesn't wanna own up to it. Guys please help me make him go viral for what he did to me make other girls aware of him."
See her posts below;