Mr Olayinka Bernard Adeleye, the 30-year-old man whose photo was used in place of that of a Nigerian man who allegedly died in the Ukrainian plane crash on January 8, has debunked claims of being involved in the sad incident which claimed the lives of 176 passengers.
Adeleye who is the head of department of Lagos Neighbourhood Safety Corp ( LNSC) in Odi - Olowo Ojuwoye Local Council Development Area ( LCDA) in Mushin, stated that the use of his photo for the report has caused much pain to his family as he is now being referred to as "The man that died in the crash " and a "ghost"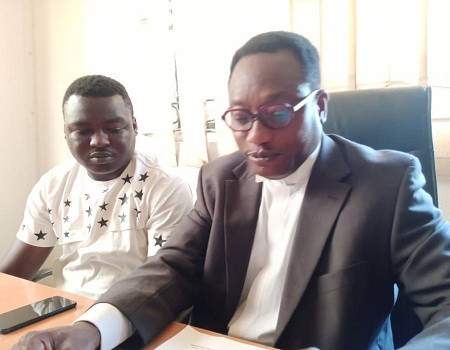 Addressing newsmen at his lawyer's office, the LNSC head of department said he has never boarded an aircraft in his life. He also disclosed that his mother collapsed upon receiving news of him "dying in a plane crash".
The distraught Nigerian who wondered why someone will cause his family so much trauma with his photo taken from Instagram, said it was more disturbing that the report was published on his birthday January 10, 2020.
He said; "My immediate reaction when I learnt my photograph was published in done media outfit as the man that died in a plane crashed in Tehran on my birthday was that of shock, fear and disappointment. Why should anybody wish a young man like me dead? I was even more disturbed when I learnt that my mother collapsed and was rushed to the hospital when she was told. She was told I died in an accident and they later explained to her it was a plane crashed.
"She knew I I did not travel anywhere yet the news devastated her. As I recovered from the trauma I had to do a video call to her to believe I was still alive. Those who are behind this have caused too much trouble in my family. What if my mother had died?
"I think the police and relevant agencies should investigate why people do a thing like to embarrass people going about their own business"
Adeleye's lawyer, Femi Martins who made a clarification on the report said though the name of his client was not mentioned in the false publication, the photograph attached to the rumours is his photograph.