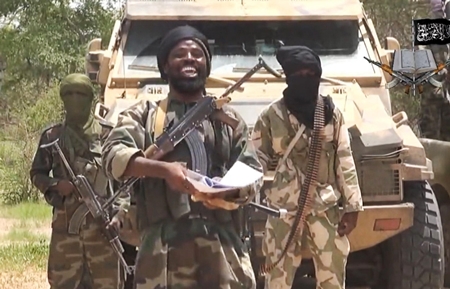 Mallama Fitdasi, the wife of the leader of the Boko Haram terrorist group, Abubakar Shekau, has been allegedly killed during air strikes by the Nigerian Air Force on Duruwa village located on the outskirts of URGA, near Konduga, in Borno State.

According to Daily Sun, the Air Force also said that the wife of the dreaded terrorists leader, was said to be representing her husband at a meeting with other terrorists members at the location, when the fighter jets struck.

In a statement on Wednesday, the director, public relations and information of the Air Force, Air Commodore Olatokumbo Adesanya, said the NAF has intensify efforts to confirm the reported killing of Shekau's wife, alongside other Boko Haram terrorists members.

Adesanya, in the statement, said "Human intelligence indicates that the wife of the Boko Haram Terrorists (BHT) Organisation, Mallama Fitdasi, appeared to have been killed in recent successful airstrikes on DURWAWA settlement on the outskirts of URGA, near KONDUGA.
"Mallama Fitdasi was reported to have been representing her husband in a coordinating meeting with other terrorists at the location of the airstrikes.
"It is recalled that the Nigerian Air Force (NAF) had reported the successful aerial attack of a large number of BHTs at DURWAWA on 19 October 2017. Battle Damage Assessment had indeed revealed that the aerial attack set off a fire, causing damage to the BHT structures within the settlement and neutralized most of the BHTs with a few of them fleeing the location. Efforts are ongoing to confirm the reported killing of Shekau's wife, alongside other BHTs."