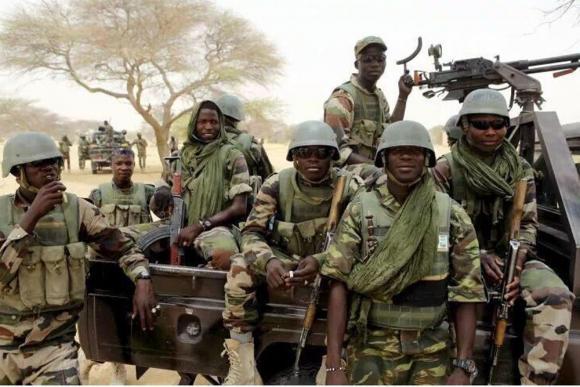 The Army said it had rescued all the 10 NNPC staff kidnapped by suspected Boko Haram terrorists in Borno on Tuesday.
But the effort came with a huge price for the Nigerian military. Nine soldiers and a civilian died in the confrontation with the abductors.
The Director Army Public Relations, Brig.-Gen. Sani Usman, in a statement on Wednesday, also said that the bodies of an officer, eight soldiers and a civilian, who died in the incident had been recovered.
Usman said the bodies had been evacuated to 7 Division Medical Services and Hospital.
Suspected Boko Haram terrorists ambushed the escort and team of Nigerian National Petroleum Company staff returning from oil exploration at Barno Yasu, Magumeri Local Government Area of Borno on Tuesday.
Usman said, "On receipt of the information, the Brigade mobilised and sent reinforcement, search and rescue party that include the Armed Forces Special Forces and guides that worked and pursued the terrorists throughout the night.
"So far, they have rescued all the NNPC staff and recovered the corpses of the Officer, eight soldiers and a civilian who have been evacuated to 7 Division Medical Services and Hospital.
"The team recovered 4 vehicles one of which include a gun truck mounted with an Anti-Aircraft Gun, two white Hilux taken away from NNPC staff and one blue Hilux belonging to CJTF.
"The team also recovered large quantities of arms and ammunition, several spare tyres, many jerry cans containing Petroleum, Oil and Lubricant, assorted drugs, Improvised Explosive Device making materials, reflective jackets and a Motorola handheld radio, among others.
"The team also neutralised many of the terrorists."
According to him, the troops are not relenting in the pursuit, search and rescue effort of the remaining militants.