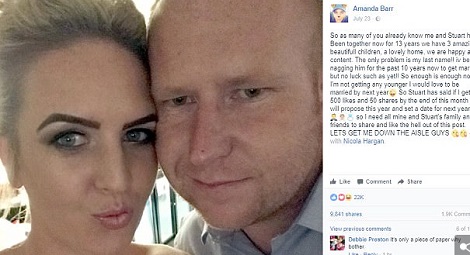 A woman who has been 'nagging' her partner of a decade to marry her was fobbed off by the eternal bachelor for years.
But now Amanda Barr, 27, from Blackpool, has finally got the proposal she's been waiting for with a little help from 22,000 strangers on Facebook.
Amanda's long-term partner Stuart Gunn, 30, had finally told his girlfriend that if she were to get 500 Facebook likes he would pop the question.
Not only did Amanda smash his target within an hour when she shared their story online, she went on to rack up more than 22,000 likes including endorsements from as far afield as Australia and Poland.

It all started while the couple were staying with Stuart's parents, who were keen for the pair to tie the knot.
Mum-of-three Amanda said: 'I see posts where people have posted on Facebook saying their husband will let them have a dog if they get so many likes, well I told him I was going to do that with getting married.
'He asked his mum and dad for help but they said that they thought he ought to. He said I wouldn't dare - and I asked him how many likes would it take to make him marry me.
'I think he said 500 thinking he was picking a high number. I can't believe it has gone like it has. I've had messages from Australia, Poland and America. It is unbelievable.'
The childhood sweethearts first got together when Amanda was 14 and Stuart 17.
They now have three children together, Jodie, 10, Tommy, 9, and Scarlett, 4.