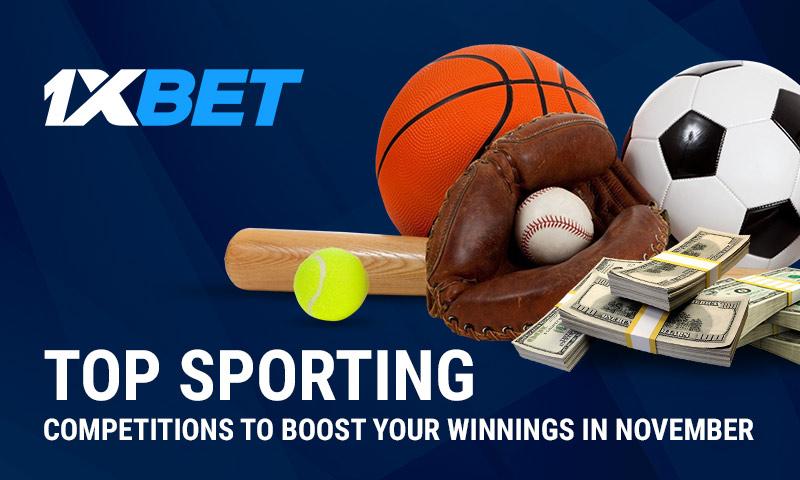 Don't be so quick to consider 2019 done before the clock strikes 12 on the 31st of December. Stepping into the month of November opens a lot of appealing sporting competitions and matches that punters can use to boost their profit and enjoy top-quality sport. 1xBet does its part and provides a consistent stock of top-quality odds on a wide offer of competitions so that you can adjust your income and have a great time. So, without further ado, here are the most interesting sporting competitions that await you in November.
RWC Final Act
First enormous thing in November, the Rugby World Cup Final will finish one of the most explosive rugby rivalries as of late. After witnessing amazing feats of sportsmanship like Japan crushing Scotland to make it to the quarter-finals or England beating Australia to get into the semi-finals, the Rugby World Cup is an occasion you essentially can not miss in case you're into sports. 
As usual, you can depend on 1xBet to give the most elevated odds and plenty of wagering markets for you to round your profit. 
UEFA Champions League Group Stage 
The Champions League is, without a doubt, the biggest football competition on the planet. And its group stage makes no exception. This November, top-quality football awaits you with matchday 4 and 5 of the competition. You will get the chance to see the majority of Europe's best at work with feature matches like Chelsea versus Ajax, Real Madrid versus PSG, Dortmund versus Inter Milan, Barcelona versus Dortmund or Juventus versus Atletico Madrid. 
All the teams had their chance to warm-up and test their new talents. The race is on for qualifying to the knockout phase of the competition and everyone wants a ticket in. Of course, some of them will have to continue in the Europa League competition while others will just have to go home.
Stand behind your favorite team and use 1xBet's high odds and offers to enjoy UEFA Champions League to the max and win big while you're at it. 
AFCON Qualifying 
After a swift preliminary round, we know the names of all the 48 teams that will fight for a place at the Africa Cup of Nations. This opens up a whole new stage of spectacular African football and you're in pole position to make the most of it at 1xBet.
The first matches already bring some very interesting disputes like Cameroon versus Cape Verde, Nigeria versus Benin, Senegal versus Congo or Ghana versus South Africa.  However, this being just the opening of a long period of top-quality football on the African football, you're set for a lot of winning opportunities. The high odds that 1xBet offers, coupled with plenty of pre-match and live betting markets give you all the support needed to enjoy football and big wins. 
Boxing Delight: Saul Alvarez - Sergey Kovalev
Just in case you're not persuaded November is stuffed with top-quality sporting activity, there's another ace up the sleeve. The most-anticipated boxing match will take place on the 2nd of November between Saul "Canelo" Alvarez and Sergey Kovalev. What better venue for such a fight than the  MGM Grand Garden Arena in Nevada? The russian fighter is battling to protect his WBO light heavyweight belt against a very difficult opponent from Mexico. 
The match records of the two boxers is astonishing and, with almost 100 fights under their belts, there's a lot of experience in the ring. Alvarez has a slight advantage with its 52 victories ( 35 through KO), 2 draws and 1 defeat. However, Kovalev also has an admirable record with 3 lost fights, 1 draw and 34 wins, so everything is on the table.
No matter who you support, 1xBet gives you all the tools needed to make a correct assessment and win big through betting on this monumental boxing match.