As many as twenty-one persons have reportedly died after a truck flew off a huge bridge onto a dry riverbed.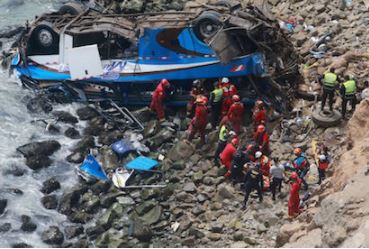 working at the scene after a bus plunged around 100 meters (330 feet) over a cliff

No less than at least 21 people who were headed for a wedding have been killed when their truck flew off a bridge in India.
This was revealed by police on Wednesday. The crash is the latest horrific crash on India's accident-prone roads.
According to the Agence France Presse, AFP, the truck, carrying more than 40 passengers, smashed through a protective railing in central Madhya Pradesh state late Tuesday and plunged nearly 20 metres to a dry riverbed below.
Police in Sidhi district said 21 people were injured, most of them critically, in the accident some 560 kilometres (350 miles) from the state capital Bhopal.
"Several teams of police and emergency services were rushed to rescue the injured. Most of the injured were in a critical condition," local police officer Vishal Sharma told AFP.
The immediate cause of the accident was unknown but Sharma said the driver was likely speeding. India has some of the world's deadliest roads with more than 200,000 fatalities annually, according to the World Health Organization.