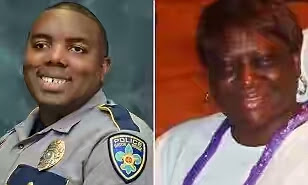 The sister of one of the black police officer killed in Baton Rouge has revealed she was sitting in church when she learned her beloved brother had died when the pastor asked the congregation to pray for her family.
Montrell Jackson, 32, was one of three officers killed by shooter Gavin Long, on Sunday morning.
Unaware that her brother had died, Joycelyn Jackson arrived at an afternoon church service after the pastor had been informed of Jackson's death by her other brother.
When the pastor asked other churchgoers to direct their prayers to her family, she was devastated to realize what had happened.
'I didn't want to break down in church, but it was just something I couldn't hold,' she said. 'It's coming to the point where no lives matter, whether you're black or white or Hispanic or whatever.'
The 49-year-old says that although she understands the anger that fuels the Black Lives Matter movement, 'God gives nobody the right to kill and take another person's life.'
Joycelyn, who lives in Lake Charles, Louisiana, described her younger brother as a 'wonderful person.'
Asked if she could speak to the man who killed her brother or anyone else considering harming police officers she said she would urge them to 'get their lives right with God.'