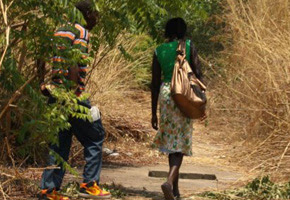 The police on Thursday arraigned three farmers in a senior magistrates' court in Katsina for raping a 10-year-old girl. The accused are Yahuza Musa, 20, Tasiu Abubakar, 20 and Sadiq Isyaku, 20. The trio, who reside in Dakiya village in Safana Local Government Area of Katsina State, appeared before Senior Magistrate Nafisa Bagiwa on one-count charge of rape.
The prosecutor, Insp. Hashimu Musa, told the court that the accused committed the offence on June 11 at about 11.30 a.m. He said the matter was reported by one Isa Ali of Kitaki village in Safana Local Government Area at Safana police division at noon on June 12. He added that the complainant informed the police that his daughter, in company of her three sisters went to purchase mango in Dakiya village.
The prosecutor said the three accused accosted the sisters in the bush, where they held the hand of the victim and pushed her to the ground. He pointed out that Musa held the hand of the victim while Abubakar and Isyaku tore her skirt and pant and had carnal knowledge of her one after the other. He noted that the victim was taken to Dutsin-ma General Hospital for treatment and medical examination.
He said the offence was contrary to Section 283 of the penal code and that the police were still investigating the matter. The senior magistrate said the court would not take the plea of the accused persons as it lacked jurisdiction to do so. Bagiwa said the accused were arraigned before the court for the purpose of taking cognisance.
She ordered the case file to be transferred to the Ministry of Justice for advice and directed the police to continue investigating the matter. The judge said that when the Ministry produced the advice, the accused would be arraigned before a State High Court for prosecution. She then ordered that the accused be remanded in prison custody and adjourned the matter until July 27.