Pastor and Relationship coach Kingsley Okonkwo has reacted to the viral video of a bridesmaid outshining the bride during the wedding ceremony.


Recall that in the video, the bridesmaid was seen wearing a gown that exposed her cleavage. She also caught the eyes of the guests with her exceptional dancing skills and with her good looks. In addition, it further provoked a guest to spray her money instead of spraying the bride.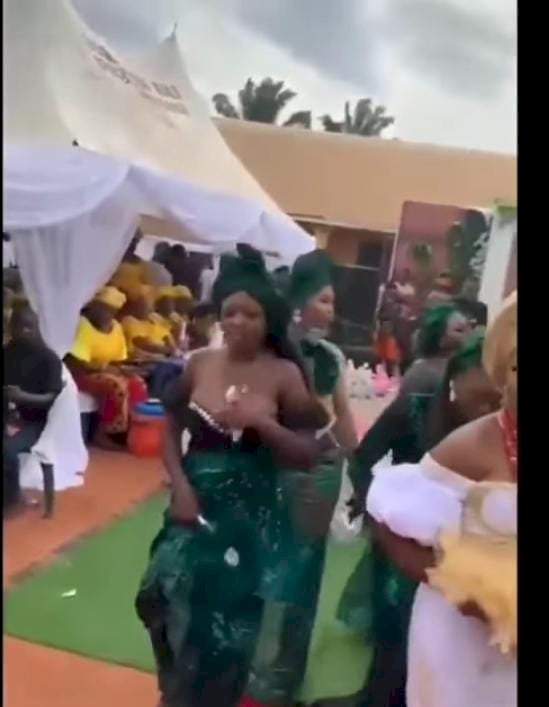 However, Pastor Kingsley took to his Instagram account to react to this.

Here's what he wrote;
"No disrespect to the parties involved(this is purely for teaching purposes)
These are my opinions, be free to have yours, as an elder I feel I should address for those that want to learn

To the bride-
* why are you keeping a friend that doesn't "look" like she's on same page with you, most of the other girls are decently dressed
* Even if she is your friend does she have to be on your train
* when she arrived half naked, you could have benched her
* She was not only half naked but was dancing with intention, for me - wrong intention
To the half naked friend-
* There's something called decency, learn it
* There's social maturity - allow people shine on their day and don't divert attention even when you can, respect peoples feelings
To the spraying man
* Can we keep lust and foolishness till after the wedding?
* Even if she was your girlfriend, wife or sister, the timing was wrong
To other parents and elders at the event
* Hope one of you corrected the friend and corrected the situation
* Keeping quiet at such means approval and more people will think it's OK

To the camera man
* Don't be silly - stay focused if you still want your balance
To me and my IG fam
* What concern us in this matter..... Well good behavior is fast becoming a thing of the past, let's preserve the small sense still left, Nigeria has lost so much let's help where we can."