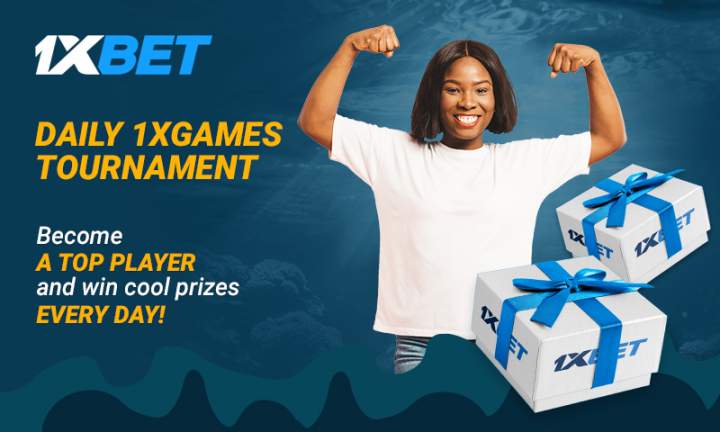 Almost everyone loves playing a game for fun, yet what if you could make money doing so? That enhances the game immeasurably, serving up an unbeatable experience. You can play such games at 1xBet, where you can win payout prizes by playing games you'll love in the 1xGames section.
The 1xBet brand is well-known globally, most notably for the incredible variety of sports betting markets offering outstanding odds with an endless flow of bonus offers, rewards and promos. Those aren't the only areas 1xBet excels! As a pioneer in the gambling industry, 1xBet has an original, innovative set of games in the 1xGames section. There you will discover unique, exciting games that are unlike the standards.
Оn the top of that, the Daily Games Tournament presents you with a way to make extra profit while having fun playing in the competitive, immersive atmosphere of an online tournament!
You can play 1xGames every day, all day at 1xBet! As you play, you earn points with bets of at least $2. The bigger the amount wagered, the more points you'll get. That means you will gain more points when you play often. Your points tally is summed up at the end of each day.
The top position players have an opportunity to win one of the many tournament prizes on offer, which aren't at all shabby! The top three placed players will be spoilt with exceptional gifts such as a Sony PlayStation 4 Pro, or an Apple iPhone XS Max. The 4th-15th spots won't be neglected either, and won't leave empty-handed. They get a complimentary free spin on The Lucky Wheel!
If that sounds like fun, you can get started immediately with a straightforward registration process. Then, all you need to do is make a deposit. You also receive a generous welcome bonus of 200%, so head over to the 1xGames section, opt-in and start winning. Once you enter the exciting world of 1xGames, there is a massive selection of games awaiting you. The process cannot be more comfortable, as 1xBet provides a search tool enabling you to find the perfect pick, quickly. There are various games categories, including card, dice, lottery, and other games - there's something for everyone.
That is all it takes to have lots of fun at 1xBet. As you play on, your points tally increases, thereby boosting your winning chances and placing you high up on the leaderboard. That means you get the best prizes. Tomorrow is another day if your luck runs out today! A new day brings new opportunities and chances, so keep trying and keep winning.
Sign up at 1xBet, click the 1xGames tab to take part in the tournaments and be a winner!