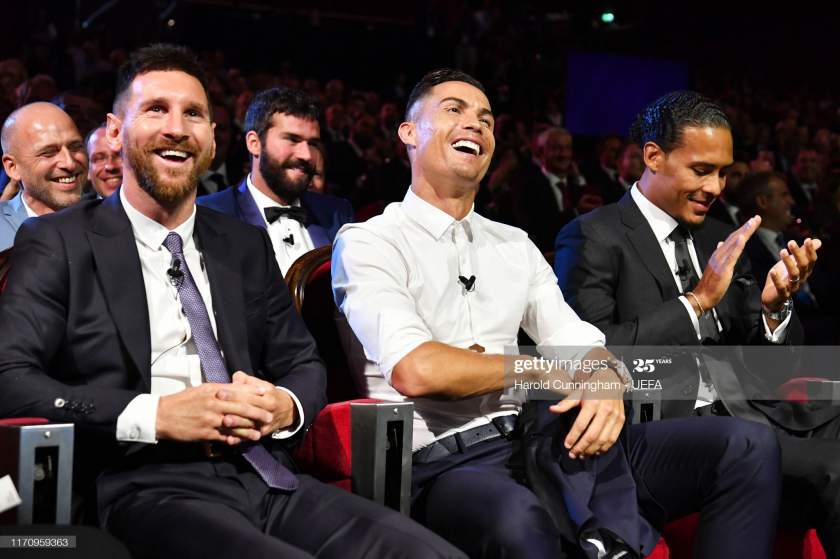 Cristiano Ronaldo and Lionel Messi have made the European Team of the 2019/2020 season for their remarkable performances for their respective clubs. 
While the Juventus star made the team with 7.82 rating on the left side of the midfield, Messi on the other hand edged others with 8.71 rating on the right side of the midfield. 
In a list compiled by popular statistics website WhoScored.com, despite winning the UEFA Champions League as well as the Premier League, Virgil van Dijk is the only Liverpool star to make the cut. 
It may have been a delayed season, but Europe's top five leagues drew to a close on Sunday, July 2, as the Serie A campaign reached its conclusion. 
Although Messi and his employers are at loggerheads over some crucial issues around the club, that did not in any way affect his performances on the pitch. 
The 33-year-old scored 25 goals in 33 Spanish league appearances this campaign - earning him his seventh Pichichi award.
A record no one has attained in the history of the league. 
The Argentine became the first player to create 21 assists in one single season - breaking the record held by former teammate Xavi since 2009. Below is the European team of the season 
1. Goalkeeper: Jesse Joronen (Brescia) - 7.01 rating 
2. Right-back: Ricardo Pereira (Leicester) - 7.50 rating 
3. Centre-back: Virgil van Dijk (Liverpool) - 7.32 rating
4. Centre-back: James Tarkowski (Burnley) - 7.19 rating 
5. Left-back: Alphonso Davies (Bayern Munich) - 7.52 rating 
6. Right midfield: Lionel Messi (Barcelona) - 8.71 rating 
7. Central midfield: Jadon Sancho (Borussia Dortmund) - 7.64 rating 
8. Central midfield: Kevin De Bruyne (Manchester City) - 7.97 rating 
9. Left midfield: Cristiano Ronaldo (Juventus) - 7.82 rating 
10. Striker: Robert Lewandowski (Bayern Munich) - 8.13 rating 11. Striker: Timo Werner (RB Leipzig) - 7.60 rating