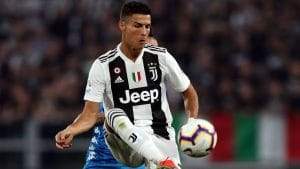 Maurizio Sarri who is the handler of Italian champions Juventus has explained that Cristiano Ronaldo is not currently in his physical best for the Turin based side.
His statement comes following Cristiano Ronaldo's unimpressive performances for Juventus since football returned to Europe after almost three months.
During the lockdown, Cristiano Ronaldo was in Portugal with his family and he was spotted many times training in his mansion so as for him to keep fit.
Fans were expecting the former Real Madrid star to hit the ground running after the resumption of football, but Cristiano Ronaldo has not found his rhythm.
Following Juventus' last week defeat against Napoli in the final of the Coppa Itallia, Cristiano Ronaldo has now lost two finals in a row as Juve also lost the Supercoppa Italiana to Lazio.
Before the leagues in Europe went on break, the Portugal international scored 25 goals in 34 games for Juventus.
yesterday, alone and for a long time. He mustn't lose his confidence.
"I hope that from tomorrow the fantastic player of old will come back. It's just that he's not physically at his best right now,'' Sarri explained.
Juventus are still topping the Serie A standings after 27 games and they are being followed by Lazio who have one game yet to be played.