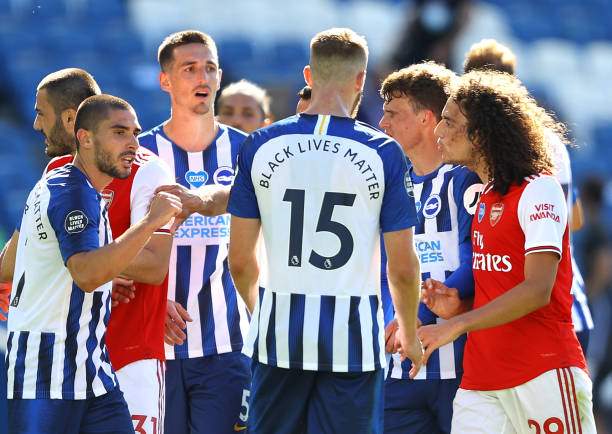 Matteo Guendouzi will not be punished for grabbing Neal Maupay's throat after the final whistle incident in Arsenal's 2-1 to Brighton.
The 21-year-old was caught on camera throttling the French striker but the English FA have given their verdict regarding the incident.
An FA statement read: "Matteo Guendouzi's conduct during this incident was not seen by the match officials at the time, but it was subsequently reviewed by the VAR, so he will face no further action."
Referee Martin Atkinson did not see the incident when the Guendouzi harassed his fellow countryman for what appeared to a red card offence.
Arsenal recorded their second straight loss in as many days despite taking the lead through Nicolas Pepe.
But what really caused the scuffle was due to Maupay's aerial challenge with goalkeeper Bernd Leno who suffered a terrible serious knee injury.
The German shot-stopper was taken off in the first half after medics had to spend five minutes on the pitch with him before he was being stretchered off.
And Guendouzi did not forgive Maupay who broke Arsenal's hearts by scoring the match-winner in injury time as a mass confrontation took place after the final whistle.
Maupay said after the game: "I'm sorry about what happened to Bernd Leno, I never meant to hurt him. I wish him a speedy recovery."