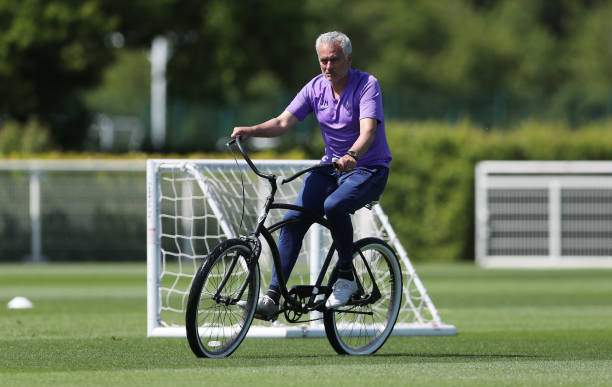 Jose Mourinho seems undisturbed with the crisis created by the deadly coronavirus as the Portuguese born tactician rides a bicycle to entertain himself.
The 57-year-old was overseeing their training session earlier this week when all of a sudden decided to move round the pitch on the two-wheels ride.
Mourinho has been of tremendous help in the fight against the infection after helping deliver relief materials to vulnerable people.
The former Premier League winner has also revealed that he wants football back but insists that it should not be at the expense of players' safety.
According to Daily Star Harry Kane, Son Heung-min, Dele Alli and Davinson Sanchez were among those participating in fitness building sessions while maintaining social distancing.
The equipment used is also disinfected regularly as they are not leaving any stone unturned in the fight against COVID-19.
After seeing the 'Special One riding bicycle, one fan said: "I finally found it. My new lock screen!!!" Another one added: "I don't even know why but this had me in hysterics."
A third chipped in with: "This is the content we need." With a fourth saying: "Jose with the entrance."
Meanwhile, the three-time Premier League winner said he wants football actions back on the pitch soon The Portuguese said after being asked about the endless wait for the Premier League over the safety of players: "I have not asked for any delay.
"I want to train and I am desperate for the Premier League to return as soon as it's safe to do so, particularly now as we are seeing other leagues preparing to return to action.
"I am extremely proud of the way my players have maintained their fitness - they have shown great professionalism, passion and dedication.
"We have all been working extremely hard through remote squad training sessions and isolated running now the pitches are available to use again at the training centre.
"Every player is extremely committed in terms of their individual work and now we wait for clearance to commence working in small groups again, which I will fully support."