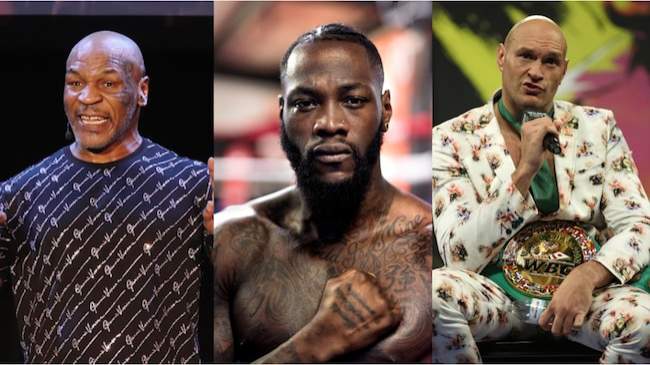 Legendary Iron Mike Tyson has once again expressed his reservations for the reigning WBF, WBO, IBF and IBO champion Anthony Joshua as he excludes the Brit in his five current favourite boxers.
The 53-year-old who was the heavyweight king in the 1990s seems not to be excited by AJ the way others do including compatriot Tyson Fury and former WBC champion Deontay Wilder.
And despite the fact that Joshua defeated pudgy Mexican-American Andy Ruiz, Tyson also mentioned him ahead of AJ himself.
"I respect Tyson Fury, I respect Deontay Wilder, I respect all of those guys," Tyson said on his show Hotboxin, cited in SunSport.
"Andy Ruiz also, this guy named Vasyl Lomachenko - he's a f-ing animal, man. He's a master, it's like he's dancing.
"There's also Gervonta Davis, there's quite a few guys that are good fighters."
"The situation is whether they will fight each other. Promoters are not allowing them to fight each other. I'd love to see them fight each other but the promoters don't want to do it."
And this is coming barely 48 hours that Joshua paid tributes to boxing's 'greatest of all time' fighters Mike Tyson himself and Floyd Mayweather.
The 30-year-old champion posted on his Instagram stories that both retired heavyweights helped pave the way for him in the sport.
'AJ' wrote on Instagram Stories: "Gotta pay homage to the (GOATs) that paved the way for us."
In 2019, Joshua became two-time unified heavyweight champ; he shared an image of Mayweather and wrote: "'Hard work, dedication.' Money May."
The unified heavyweight champ continued by focusing on Tyson and used a quote from 'Iron' Mike's legendary former trainer, Cus D'Amato.
'AJ' posted: "A boy comes to me with a spark of interest, I feed the spark and it becomes a flame. I feed the flame and it becomes a fire. I feed the fire and it becomes a roaring blaze."