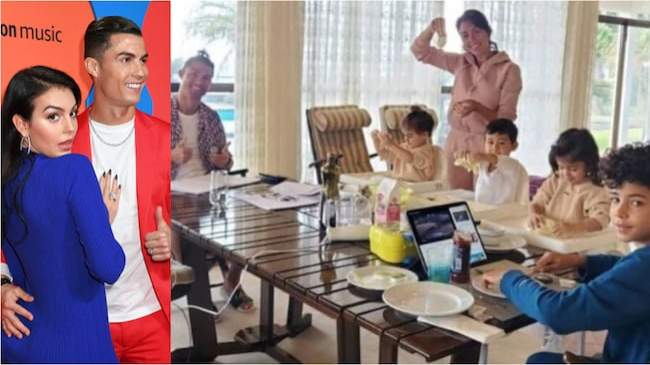 Portuguese star Cristiano Ronaldo is currently back home in a £3,500-a-week rented apartment in Madeira as the lockdown continues across the globe
Ronaldo posted a picture of himself making food alongside his girlfriend Georgina and kids, while Ronaldo Jr watched video games as the family continues to obey the coronavirus rules.
The Juventus striker seems to be happy as he continues to spend time with them following the suspension of all elite football competitions across Europe.
Like many, the Juventus talisman is taking advantage of the lockdown to spend quality time with his family and barely 24 hours after he wished his fans a happy Easter with a picture of the whole family, six of them, the star has posted another photo.
Ronaldo was pictured smiling at the camera as Georgina also did the same, while wearing her pink tracksuit. The kids for the most part, however, appeared to be in their own worlds.
The 9-year-old Jr turned away from his mobile as he flashed a smile for the pose, while Mateo, Eva and Alana, all two years old, seemed to be in worlds of their own.
As the Juventus forward continues his fitness training personally due the coronavirus lockdown, the player was seen lifting his kids as weights on his Instagram handle.
The star who personally shared the video was seen doing sit-ups using Mateo and Eva Maria as weights, while his girlfriend Georgina refers to the trio as 'the best trainers'.
While the 35-year-old made an attempt to work on his abs, the children had other plans as they jumped on their father, he held onto them with an incredible strength into the air and continues the sit ups.
He made a post of that scene on his Instagram handle and then his girlfriend, Georgina Rodriguez, commented on the clip: "The best trainers."