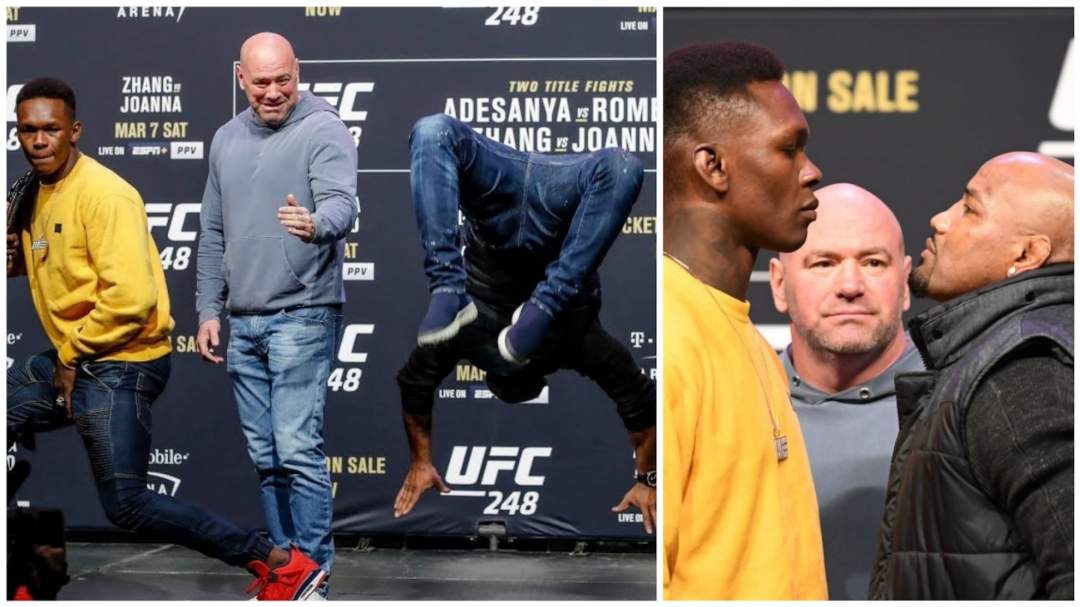 UFC middleweight champion Israel Adesanya and his challenger Yoel Romero gave fans a glimpse of what to expect ahead of their highly anticipated bout in Houston on March 7.
Ahead of their fight, the two fighters took part in a dance off, during the UFC 248 press conference.
The dance off has now been dubbed one of the greatest moments in UFC press conference history.
Adesanya otherwise known as the last Stylebender will defend his UFC middleweight belt against Romero in Houston on March 7 but before they square up in the Octagon, both decided to face-off on the dance floor.
While Adesanya decided to pull off some salsa dance moves to delight of the fans, Romero chose to show off his athleticism with a perfect backflip.
The Cuban fighter stole the show as he did his own dance before performing the backflip followed by the splits.
For a 42-year-old, it is quite impressive and UFC President Dana White who was in the middle of the action couldn't help but laugh.
Israel Adesanya had a successful 2019 in the UFC winning two major fights and was crowned UFC's middleweight champion last year.
The Nigerian-born New Zealand fighter became the interim champion after defeating American Kelvin Gastelum via unanimous decision.
And the 30-year-old ended the year as middleweight champion following a knockout victory over Robert Whittaker.