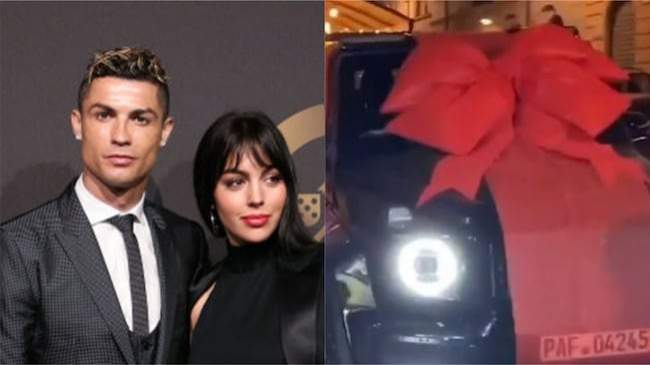 Portugal international Cristiano Ronaldo on Wednesday, February 5, turned 35 and he got a remarkable birthday gift of a car from his girlfriend Georgina Rodriguez.
Cristiano Ronaldo and Georgina have been dating since his days at Real Madrid and the Spaniard has a child for the five-time Ballon d'Or winner.
The former Real Madrid superman always show his love for Georgina on social media in which there are reports that they might have done a secret wedding.
Georgina however surprised her lover on Wednesday night while driving to the restaurant with his eldest son.
When they got to the restaurant, Cristiano Ronaldo saw group of friends waiting for him in joyous mood before he looked up and saw the Mercedes jeep waiting for him.
It was there that he was being told that his girlfriend Georgina has a gift for him, and with happiness, Cristiano Ronaldo hugged his woman and all the people around.
Georgina Rodriguez shared the video on her Instagram page wishing her lover the best in life and she is also proud to be associated with Ronaldo.
Meanwhile, Cristiano Ronaldo has been superb this season for Juventus in all competitions as he gears up to win another Ballon d'Or award.
Lionel Messi recently won his sixth Ballon d'Or award and Cristiano Ronaldo himself made it clear that he wants to keep winning.
Juventus are currently topping the Serie A standings with 54 points after 22 games and they are been followed by Inter Milan who second with 51 points.