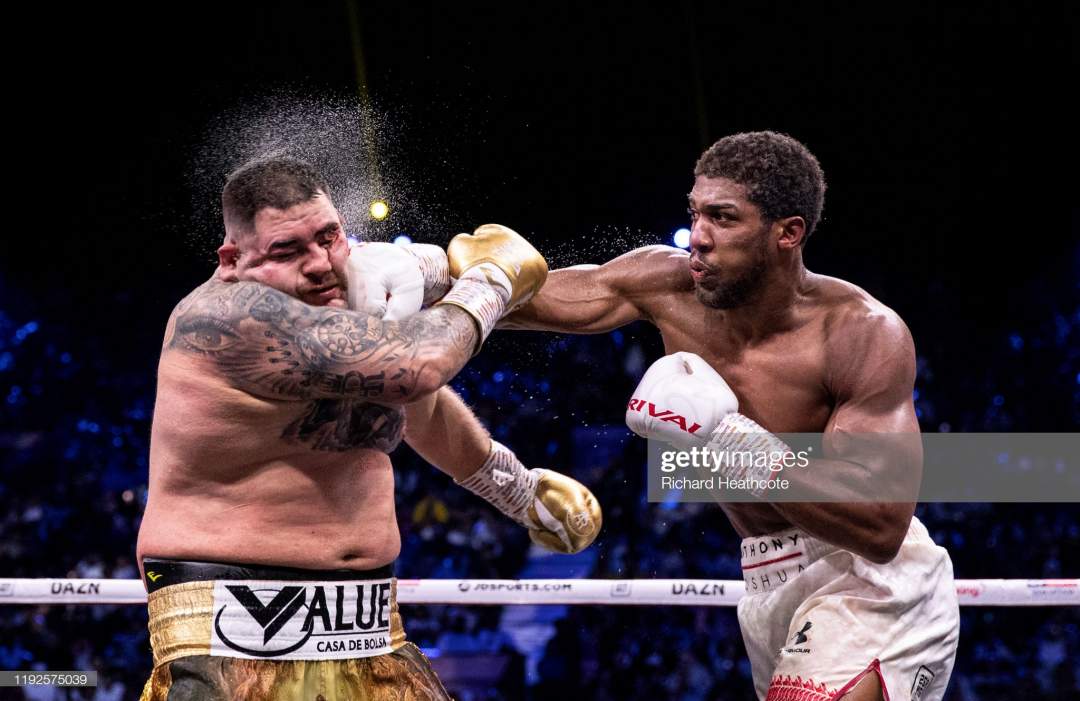 The 30-year-old toed the path of the biggest names in the sport (Muhammad Ali, Mike Tyson and Lennox Lewis) who bounced back from defeat to reclaim heavyweight spotlight.
Joshua was aggressively brutal against Ruiz inside the 15,000 capacity stadium as he cut the Mexican star's upper left eye before finally seeing him into 12th round to reclaim his WBO, IBF and WBA belts.
Meanwhile, We highlights five major take-aways from the rematch that was adjudged Joshua's greatest test of championship.
1. Anthony Joshua is boxing's nicest guy with defeat and victory


Without any iota of doubt, Joshua's name will go down the boxing history as a man who does not only change the face of the game but also bring humility and respect.
Earlier written off by critics after suffering first career defeat to Ruiz at Madison Park in New York, Joshua remained humble in defeat while triggering a rematch clause in his contract with Ruiz's camp.
https://twitter.com/_omoissy/status/1203441620445749248
The heavyweight champion doused the tension of what could have been an embarrassing blood-filled tie in Saudi through humility and respect.
Even when Ruiz was boasting that he would end his career and send him to retirement, Joshua did not show verbal aggression, instead he lay low.
And after his victory of Saturday night, this is what he had to say: "Stay hungry, stay humble. I'm humble in defeat and I will stay humble in victory."
2. Joshua rakes in millions in victory


The rematch was was earlier scheduled to hold in Cardiff City before Saudi Arabia came in with an irresistible late offer.
And with Saudi the host of the fight, Joshua will fall in fortune of a whopping $85 million, while his challenger Ruiz will rake in $13 million.
"The purses for Saturday night's world heavyweight championship rematch in Saudi Arabia are reported to be - Anthony Joshua $85million, Andy Ruiz Jnr $13m," Riyadh had newsflash reports.
It would be recalled that in their first fight at Madison Park in New York, Joshua pocketed lion share of 20 million euro despite suffering the first defeat of his career.
The Mexican champion, however, went home with £5 million though he deposed Joshua of his heavyweight champion, carting away his WBA, WBO and IBF belts.
3. Anthony Joshua is heavyweight division's posterboy.


We can only give it to Joshua for his resilience and determination that has seen him succeed in heavyweight division against all odds.
The 30-year-old star joined the biggest boxing division in 2013 and has made a remarkable landmark in his total twenty-three fights.
Joshua won 22 of his fights and lost one to Ruiz in June in New York/Bests of No Nation young actor Abraham Attah impresses internet users with transformation photos.
With a win against Ruiz, Joshua is WBA, WBO and IBF champion, crowing him the posterboy of the division, though in a competition with Deontay Wilder, WBC champion.
4. Joshua will need to more work to move clear above Wilder and Fury


Joshua failed to deliver his knockout promise on Ruiz yesterday albeit put in a show of champion that saw him dragged to the 12the round where he won on unanimous point decision.
This is contrary to the previous image of him the boxing world was used to know. In his 23 fight, the heavyweight champion won 21 by knock-out, so failing to beat Ruiz before the 12th round means he still has a lot of work to do.
Boxing world may demand they want a single face in the game, and if Joshua does not improve his fighting spirit, he may lose his position to Fury or Wilder who recently defeated Luis Ortiz in Las Vega last month. 
5. Like football, boxing is uniting the global communities


The global turn-out for Ruiz vs Joshua rematch is an indication that like football, boxing is gaining an incredible influence and binding global communities together.
From sport celebrities like Cristaino Ronaldo to people down the societal chain, everyone rose up to watch the fight, put differences and grievances apart.
Yesterday's massive turn-out cold be likened to the final of UEFA Champions League final where the world stands agog in unity and love.