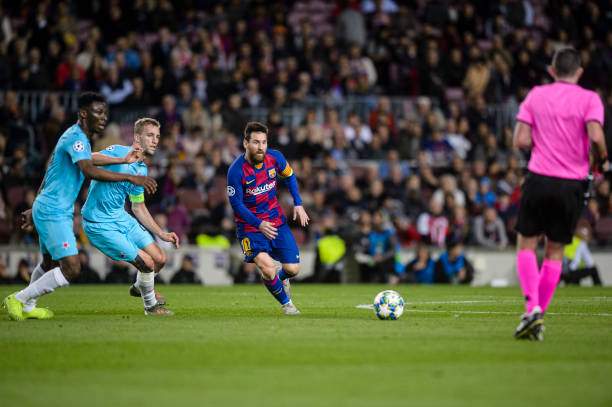 Lionel Messi has been regarded as the greatest footballer of all time but one fan is of a different opinion about the his capabilities.
A Twitter user known as @AntiLaportismo has listed ten reasons why the Barcelona captain can not be called the best ever footballer that played the game.
The fan created a thread on Twitter to show the five-time Ballon D'Or winner's weaknesses which would interest Cristiano Ronaldo's fans.
Here are the ten weaknesses of Messi @AntiLaportismo listed to show why he is not that fantastic.
1. Score goals with his weak foot
Messi is popularly known with his favourite left-foot but in instances when he tries to use his right, it becomes a difficult task. No wonder he has only scored 85 with his right-foot out of his numerous goals.
2. Scoring with headers
Out of Messi's 677 goals, 55 has only been scored with his head which is the fewest.
3. Score penalties
Messi has missed 24 penalties (33 per cent) and he is known as one of the worse penalty takers in the world.
4. Long shots
With Barcelona's style of play, Messi is not used to taking shots from distance and this could affect a team who is desperately in need of a goal.
5. Crossing
Messi usually provides assists but not with crosses from the flanks, the petite Argentine does not take on wing backs to deliver crosses to six, seven players in the box.
6. Keep possession
According to @AntiLaportismo, Messi is one of the most dispossessed players from this century. he believes the Barcelona star prefers to take on five, six players at once.
7. Being a leader
The same Twitter user believes Messi does not possess leadership qualities to take his teammates through adversity, something Diego Maradona complained of recently.
8. Clutchness
Messi has played in four finals with Argentina and has never scored in a game where Barcelona got eliminated and his last Champions League final goal was in 2011.
9. Thrive in different systems
Messi has never shown his quality apart from playing for Barcelona. With Argentina, he gets exposed without a star-studded squad. His goal ratio, friendly goals and titles won are all proofs given by @AntiLaportismo.
10. Track back
Messi does not help his teammates when defending, not even when he loses the possession and the play can end up in a goal.