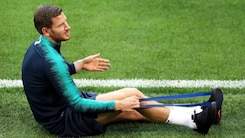 Former England striker Darren Bent has claimed that Arsenal are ready to make a move for Tottenham star Jan Vertonghen when the transfer window opens.
Bent made it clear that Arsenal manager Unai Emery is looking for a reliable defender to bolster his squad and Vertonghen has emerged as the candidate.
Although Jan Vertonghen's current contract at Tottenham will expire in June next year, but Spurs don't want to lose him for free and they could sell in January.
"Jan Vertonghen, playing at the center of the defense are there too many more that are going to be better than him? If you're going to take him on a free, Arsenal could do with him.
"I think it's a situation they need to address but at the same time I wouldn't want to see these players walk away for nothing,'' Bent explained according to the report on UK Sun.
Unai Emery has been under serious pressure this season at Arsenal and the former PSG handler should be bringing fresh legs to the Emirates in January.
Arsenal are currently occupying fourth position on the Premier League standings with 15 points after nine games played.