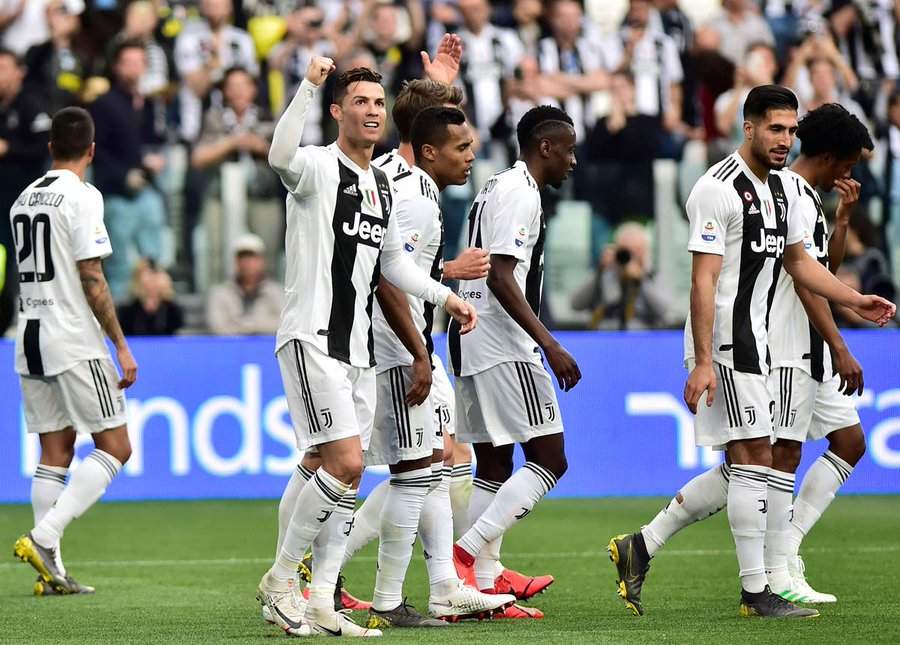 Juventus were crowned Serie A champions for the eighth successive season after coming from behind to beat Fiorentina on Saturday, April 20, at the Allianz Stadium.
The encounter saw Juventus start brightly after their Champions League quarter-final defeat by Ajax on Tuesday, April 16 at the same venue.
In the 4th minute, the home-side had a decent attempt to open scores after Federico Bernardeschi located Cristiano Ronaldo at back post, but the Portuguese star fired his first-time volley off target.
But moment later, Fiorentina stunned the home fans after taking the lead. Federico Chiesa crossed the ball into Juve's vital area but Wojcech Szczęsny save could only find Nikola Milenkovic to blast into an empty net.
The Bianconeri were finding it difficult to hold possession after the goal and the away side almost grabbed their second goal in the 11th minute.
Chiesa kick-started a quick counter-attack for Fiorentina with the ball falling to Kevin Mirallas, but the Belgian's effort shot went over the crossbar.
In the 21st minutes later, Juventus were caught napping again, but Giovanni Simeone could not get the ball to Chiesa after Leonardo Bonucci cleared the danger.
However, in the 37th minute Juventus levelled scores when Alex Sandro executed a diving header off Miralem Pjanic's corner at the near post, with Fiorentina shot-stopper Alban Lafont furious after seeing the ball in his net.
Moments before the end of the first half, Chiesa hammered a left-footed shot from inside the vital area, but Bianconeri were lucky to escape.
In the second half, Juve were more purposeful and had their visitors under pressure. Pjanic delivered a perfect cross to Emre Can to attack, but the German could not direct his header to target.
However, in the 52nd minute, Can set up Ronaldo on the right-hand side, who went past Dávid Hancko with his pace before sending the ball across goal that took a deflection off Germán Pezzella into the back of the net for Juve's second of the night.
Chiesa came close to levelling scores for the visitors after the hour mark, but his effort went directly at Szczęsny to make a save.
Minutes later, Pjanic executed left-footed half-volley, but Lafont was spot on to make a decent save.
Allegri's side controlled the rest of the game but couldn't create any further clear-cut opportunities.
Fiorentina had one last chance to score in the closing moment of the contest. Simeone found Bryan Dabo in the penalty box and the midfielder took a surprise strike at goal but Szczesny used his leg to send it wide.
At the blast of the final whistle Juventus celebrated a hard-fought 2-1 win over Fiorentina as they won the Italian league title for the eight successive time in a row.