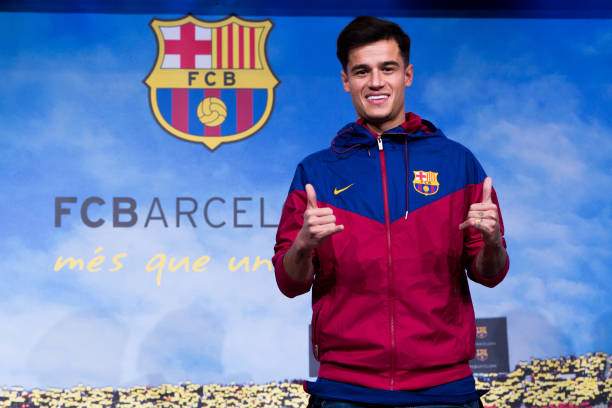 Barcelona midfielder Philippe Coutinho has warned his teammates to be wary of Paul Pogba and Romelu Lukaku ahead of their Champions League quarterfinal clash this week.
The Brazilian was in action for the Catalans in their 2-0 win over La Liga title contenders Atletico Madrid at Camp Nou on Sarturday.
A goal each from lionel Messi and Luis Suarez ensured the home team cruised to victory and further consolidate their leadership at the summit of the table.
But despite their impressive performance over the weekend, the former Liverpool forward believes both Pogba and Lukaku can inspire the Red Devils to greatness when they meet.
Both sides faceoff first at Old Trafford on Wednesday, April 10, before meeting for the remainder of the game a week later at Camp Nou.
Coutinho says the combination of United's duo can 'hurt any defence' regardless of the strength of the opposition's back line
"It's complicated to describe what you have to do to win against this team. For a start, Manchester United have a great goalkeeper and huge players in attack," said Coutinho.
"Pogba and Lukaku are capable of hurting any defence and Pogba, in particular, is a great player.
"We will have to be very careful to stop him because he can generate a lot of problems for us and I think the duel with Pique will be important in both matches.
"United have had some inconsistent results recently, but it's clear they have improved in every area under Solskjaer.
"For me, the key for both sides is going to be in attack. Whoever wins that battle will be in the semi-final - and I'm confident it will be Barca. If we play with our usual character and style, then we can win at Old Trafford ."
Coutinho could be returning to Liverpool for the first time in a competitive match since he left the club in 2018 if Barcelona beat Man United and progress to the semifinal, should the Reds also overcome Porto after both legs.
"Let's see, I hope it happens, but we have a big game first at Old Trafford, " he said.
"What I can say is that I'm glad that Liverpool are doing well this year and, if the draw had been different, I would have liked to play the Champions League final against them.
"Klopp is a great coach and it was only a matter of time before he got the team performing the way they are. They are having an incredible season. But so are we - and I am focused first on Barcelona ."