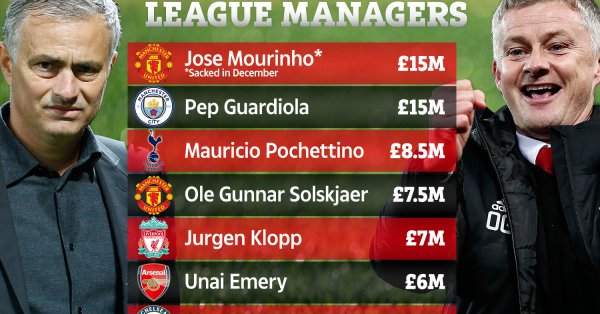 Ole Gunnar Solskjaer will earn half of Jose Mourinho's salary after signing a permanent deal with Manchester United on Thursday, March 28, at Old Trafford.
According to UK Sun citing the Mirror, the Norwegian, who penned a three-year contract is expected to pocket about 50 percent of what United splashed out on Mourinho.
A further breakdown of Solskjaer's wages at Old Trafford will see his salary at £7.5million as against Mourinho's £15m.
That amount translates to £145k-a-week of what Paul Pogba earns and less than a third of Alexis Sanchez's salary.
But it is a big lift from the £400k Solskjaer was reportedly earning at former club Molde in Norway.
At the last count, Solskjaer, who replaced Mourinho as United boss mid-December has lost three times in 19 matches so far.
The performance has seen Man United just two points adrift of fourth-placed Arsenal in the quest for the top four finish.
Solskjaer has also enjoyed enormous support from United players, fans and club legends backing him all the way to get the job.
Red Devils fans were seen pleading with vice-chairman Ed Woodward for selfies just for appointing Solskjaer after the Champions League win against PSG.
Interestingly, Solskjaer salary is far off when compared to fellow Premier League manager like Pep Guardiola, who smiles home with about £15m annually.
On the other hand, Tottenham's Mauricio Pochhettino pockets about £8.5m, while Liverpool's Jurgen Klopp earns about £7m a year or £134,000 weekly.
The pair of Arsenal's Unai Emery and Chelsea's Maurizio Sarri are on £6m and £5.15m yearly salary respectively.
Solskjaer will turn his focus on Manchester United's top four ambition and next month's Champions League quarter final showdown against Barcelona.