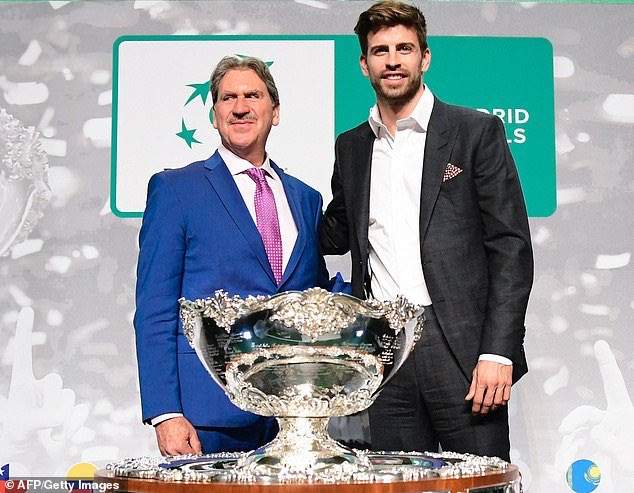 Lionel Messi, Barcelona playmaker, has joined teammate Gerard Pique's plans to manage the Davis Cup which is one of tennis oldest competitions.
According to UK Daily Mail report, Pique hinted that Messi alongside other billionaires were also involved with his special project for tennis which kicked-off on Thursday night, with the official draw for November's inaugural event in Madrid.
Speaking on his company - Kosmos enterprise's plans to manage the Davis Cup for the next 25-years, Pique stressed it is one of the more curious deals that the global business of sport has witnessed.
Other investors include Oracle tycoon Larry Ellison, one of the world's richest men, and Japanese e-commerce billionaire Hiroshi Mikitani.
The Barcelona defender Pique also maintained that Messi remains one of most informed colleagues about the project at Barcelona.
"Leo knows more than anyone about this because he is involved in Kosmos," said Pique
"He is a partner, he is part of the Kosmos family, he likes tennis. We have a relationship of 18 years since he arrived at the club and I always try to share with him things I'm thinking, he loves to be part of it and he wanted to be part of it."
Furthermore, Pique's partner Shakira alongside some of his teammates at Barcelona are still wondering how Pique was able to get the much needed results. he fits everything in, while producing displays on the pitch that have been getting rave reviews.
'They said to me they don't understand how I'm doing all of this. Some of them don't follow it but some of them know about it, and they are pretty excited and want to come to Madrid.
"They are used to it with me - I need to be busy, I cannot be lazy at home doing nothing, not training or having my mind occupied on different things. That's the person I am and have been since I was very young. I always want to be involved in something that makes me very excited.
"I don't want to be distracted because I have another job, which is to play football. It helps me be focused, more concentrated and not to make mistakes on the pitch because otherwise I know there will be criticism," he summed up.
Pique also found time to speak on contentious issues in the game as well as the deal that saw Kosmos invest $3billion over 25 years.
Pique has found himself at the receiving end of Roger Federer and Lleyton's Hewitt's bashing branding the Davis Cup as the 'Pique Cup'.
"I hate it, because it's not about me and I don't want my name on the competition," he said.
"Davis Cup history is so big. I hope we can change this opinion. After a few years I hope they go back and say "We were wrong, Davis Cup is more alive than ever".
"I respect the opinion of Lleyton, he was a great player. What I can say is that while I'm the President of Kosmos we are full of people who know tennis, people like Albert Costa, who has won a Grand Slam.
"I can understand that when a footballer comes in the tennis world it can seem a little bit awkward or strange, but at the end of the day I'm not going to be changing the rules of tennis. I understand that I'm the new one here and I try to understand everyone. In the time we are living now it is easy to say whatever you think. If it's with respect it's fine," Pique submitted.