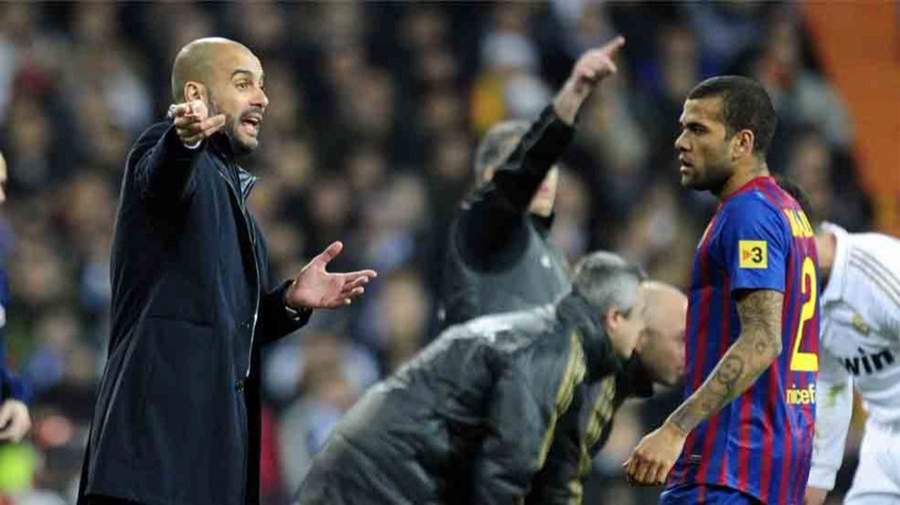 Paris Saint Germain defender Dani Alves is reportedly eyeing a move to reunite with his former boss Pep Guardiola.
The 35-year-old's current deal with the Parisians expire at the end of the ongoing season and a chance for extension is not looking likely.
He joined PSG on a free transfer in the summer of 2017 from Juventus and became an instant hit for the Ligue 1 champions.
He was however ruled out of Russia 2018 FIFA World Cup after suffering a knee ligament injury during his side's 2-0 triumph over Les Herbiers on Tuesday, May 8 in the French Cup final.
SunSport reports that the right back claims he was not ready to return to his country and will consider a move to play in the Premier League.
The publication further revealed that the 35-year-old was said to hold talks with Flamengo at the beginning of the year, but changed his mind at the long run.
Meanwhile, the former Barcelona star reportedly "dreams" of playing for Guardiola at the Etihad - seven years after they last worked together at Nou Camp.
Alves won three La Liga titles under the Spanish coach and also triumphed in the Champions League twice before Guardiola left Nou Camp in 2012.
Alves stayed in Barcelona for four more seasons, before claiming the Serie A trophy with Juventus and the Ligue 1 crown with his current club PSG a year later.
He has won 38 trophies in his illustrious 17-year career, but has made it known before he does not want to hang up his boots without tasting Premier League football.
According to the Sun, Alves admitted that he rejected City's approach ahead of his PSG switch in 2017.
He told the Telegraph last year: "Turning him down was painful. In football terms he was one of the most amazing people I have known, completely obsessed with his work, but how he treated people was special, especially me."
But Alves added: "The idea that I might finish my career without going to the Premier League, it is not possible ."