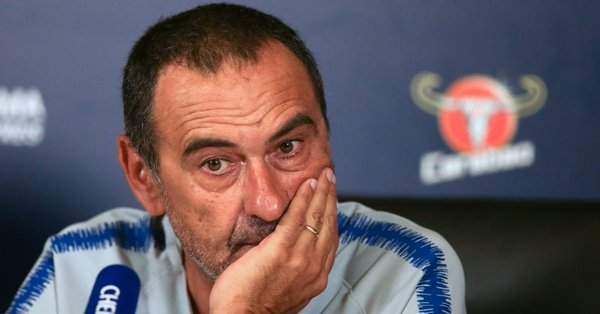 Maurizio Sarri has slammed the trio of Eden Hazard, Willian and Pedro for not making it easy for Chelsea's strikers to shine during matches.
According to a Metro report, the 60-year-old Italian tactician is unhappy with the individual play of the players, stressing it played a huge role in defeats at Arsenal (2-0) and Bournemouth (4-0) last month.
Speaking ahead of Saturday's Premier League clash against relegation-hunted Huddersfield Town at Stamford Bridge, Sarri, who had an impressive run at the start of the season insists Hazard, Willian and Pedro must offer Chelsea's strikers more support and wants Hazard to "do more tactically".
The former Napoli boss also took out time to react to Hazard's recent performances for the Blues.
"I think that he is changing.
"He was used to playing as an individual player, but now he has to play in a cooperative way. It is not easy for him as he became Hazard in another way.
"It is not easy but I can see now he is more available to play in this way. He is fantastic from the technical view and I think he can do more tactically.
"It is not easy to play in a striker with this team, we have a lot of individual players, like Hazard, Pedro, Willian, so it is not easy for the striker to make the right movement at the right time," Sarri stressed, even as he was quick to plead with Chelsea's fans over the shambolic performance at Bournemouth which he termed a 'disaster'.
"First of all we have to say sorry for that, because the result was a disaster. I can understand them very well.
"They have to be patient with us as we are trying to do something great. We have to be patient, we will lose matches, but we are trying to do our best, " he summed up.