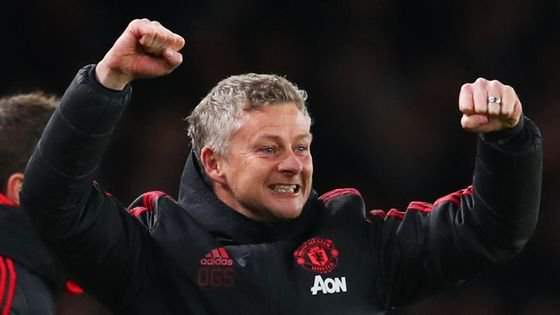 Ole Gunnar Soksjaer has won eight straight games since taking over at the helm from Jose Mourinho last December at Manchester United.
And there is a growing belief among staffs, players and fans of the club that the former player has done enough to earn himself a job at Old Trafford on a permanent basis.
However, Manchester United will not hurriedly make a decision on a new manager despite the Norwegian's perfect start to life with United.
But according to Mirror, United chief Ed Woodward and the American owners are in agreement that the decision to announce a new manager will be decided on the long run.
An insider said: "It is going fantastically well under Ole, but the club is sticking with a process that will not be concluded until the summer."
Tottenham manager, Maurizio Pochettino is a highly favoured candidate in the boardroom despite his trophy-less spell with Spurs.
However, United chiefs are on the same page with Solksjaer who has now become a serious contender for the managerial role at the club.
The ex-United striker broke the six-game winning streak set by Sir Matt Busby after the Second World War.
The situation in the dressing room has experienced a massive turn around top performers like Paul Pogba, David de Gea and Anthony Martial, who are all in line for new contract talks.
United have signed three managers since Sir Ferguson retired less than six-years ago and none of them have matched the stunning impact made by Solksjaer.
And rejuvenated Spanish midfielder Ander Herrera has revealed the transformation under Solskjaer.
In a dig aimed at Mourinho, Herrera has admitted United's stars are revelling in being free - and having fun again.
He said : "We are playing with no limits, yes - it's exactly what Ole brought to the team since the first day.
"We enjoy scoring goals and we enjoy defending together.
"You can see that, when we are playing free with a smile and everyone is playing for each other, the results come easier. We are doing great. Sometimes we have to defend, but, when we defend, we know anything can happen because we have so many quick, attacking, offensive players.
"I can make runs to be in the box, Paul (Pogba) can make runs to drive the ball forward, Ashley (Young) and Luke Shaw are allowed to win the ball in the box and make a run even to the opponents' box.
"Now I am allowed to go into the box soon after I defend. Even Nemanja Matic is allowed to shoot.
"Our feeling is that, if we perform at our best, we can beat anyone.
"It doesn't mean we are going to beat every team. But we have that belief - because we have the quality to do it."