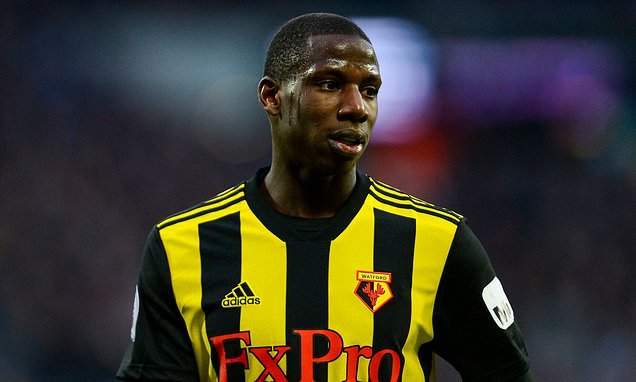 Watford midfielder Abdoulaye Doucoure has reportedly emerged as top transfer target for French League giants Paris Saint Germain.
The Parisians are preparing to make a £50 million bid offer for the 26-year-old who has scored three Premier League goals and assisted five others so far this campaign.
Since his dream move to the English topflight in 2016 from Rennes, he has scored 11 goals in 77 EPL appearances for the Hornets.
His performances has now attracted attention from top European clubs, with PSG leading the way with an impressive offer for the player.
According to SunSport, Watford are not interested in letting their man leave anytime soon as they don't want to disrupt their Premier League campaign, where he has helped them to eighth.
However, the Parisians are hell bent on luring the French star with an offer he won't be able to reject.
The Ligue 1 champions are hoping they can land Doucoure as a replacement for want-away star Adrien Rabiot, whose contract with the club expires at the end of this season.
Reports claim that the 24-year-old could be on his way to the Premier League following his refusal to sign a new contract with the Paris club.
Doucoure has played a leading role for Watford, having featured in every minute of the 2018 season bar their last game at home.
The former Rennes star came in as a substitute for coach Javi Gracia's men in their final game of 2018, and scored the only goal that helped his side avoid defeat against Newcastle United.
Having being linked with a move away from Vicarage Road this summer, the Frenchman signed a new contract to put all speculations to rest.
Therefore Watford are in a strong negotiating position and will only sell the midfielder for big bucks.
If Watford did decide to sell Doucoure for £50 million, they would make a tidy profit as the midfielder's stock has risen sharply over the last three years after signing him for £8 million from Rennes in 2015.
Arsenal also have Doucoure on a wishlist as they look to boost their midfield ranks and find a suitable replacement for Aaron Ramsey.