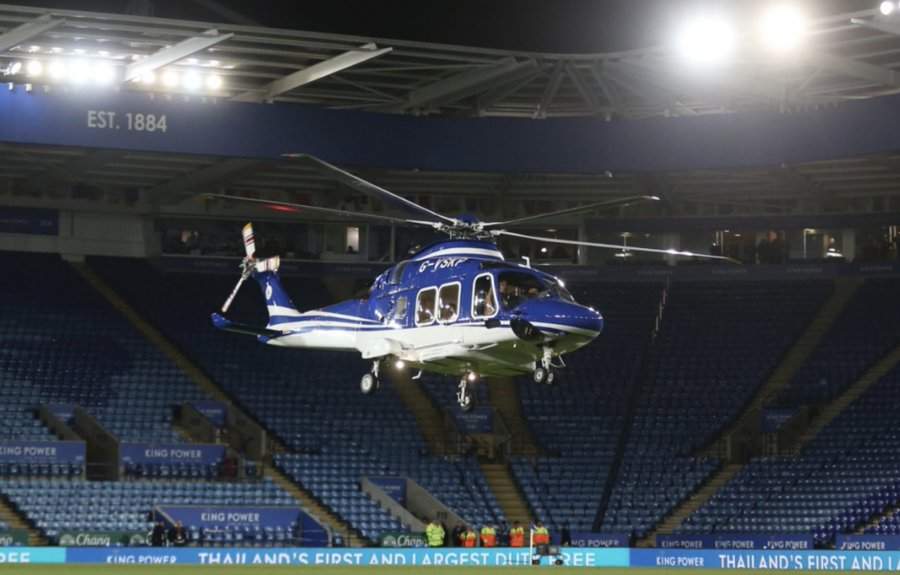 An official report has revealed that a 30cm pin triggered the helicopter crash that killed Leicester City owner Vichai Srivaddhanaprabha alongside four passengers.
On Saturday, October 27, the Thai billionaire in company of two of his staff, Nusara Suknamai and Kaveporn Punpare, pilot Eric Swaffer and another passenger, Izabela Roza Lechowicz, lost their lives in the faithful crash at King Power Stadium.
According to an eight-page report from the Air Accidents Investigation Branch, the helicopter suffered a mechanism failure after the pilot's pedals disconnected from the tail rotor blades, thereby causing the £6.7million 2016 Augusta AW169 helicopter to crash into a fireball.
"The evidence gathered to date shows that the loss of control of the helicopter resulted from the tail rotor actuator control shaft becoming disconnected from the actuator lever mechanism, " declared the special report. from the AAIB.
"Disconnection of the control shaft from the lever prevented the feedback mechanism for the tail rotor actuator from operating and the tail rotor actuator from responding to yaw control inputs.
"Loss of the feedback mechanism rendered the yaw stops ineffective, allowing the tail rotor actuator to continue changing the pitch of the tail rotor blades until they reached the physical limit of their travel. This resulted in an uncontrollable right yaw.
"Sufficient force and torque had been applied to the castellated nut on the actuator end of the control shaft to friction weld it to the pin carrier and to shear the installed split pin.
"The observed condition of the duplex bearing and the increased torque load on the castellated nut that remained on the spider end of the shaft is consistent with rotation of the tail rotor actuator control shaft.
"Whilst the shaft was rotating and a yaw control input was applied, the shaft "unscrewed" from the nut, disconnecting the shaft from the actuator lever mechanism, and causing the nut to become welded to the pin carrier."
The report further revealed that burnt-on grease was discovered on a key part of the control system at the crash site.
"The control shaft, the locking nut and pin carrier, and the duplex bearing/sliding unit assembly were removed from the wreckage and inspected in detail.
"The locking nut on the bearing end of the control shaft was found to have a torque load significantly higher than the required assembly value.
"The inner races of the bearing could only be rotated a few degrees in either direction by hand.
"There was a build-up of black grease inside the slider unit around the inboard face of the duplex bearing.
"The section of the control shaft adjacent to this bearing face showed evidence of burnt-on grease and was discoloured along its length," the report added.