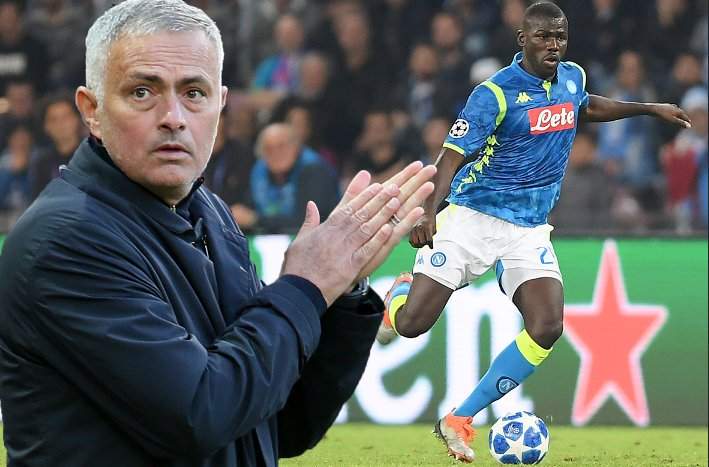 Manchester United boss Jose Mourinho is ready to seal a massive world record deal for Napoli highly-rated centre-back Kalidou Koulibaly in January.
According to Daily Star report citing The Mirror, Mourinho is eager to bring in fresh legs during the winter window, as he attempts to overcome United's poor start to the 2018-19 campaign.
The report further noted the Portuguese tactician wants a centre-back as his first signing after agreeing to meet the £89m price tag Napoli placed on Koulibaly.
The Teranga Lions defence ace is among the world's most commanding centre-backs in the last year, and Mourinho has not hidden his intentions to sign a top defender since the summer.
At the last count, the likes of Leicester's World Cup star Harry Maguire, Toby Alderweireld and Yerry Mina, were all linked with a switch to Old Trafford but nothing materialized before the end of the window.
However, Mourinho may face more hurdle in the race to sign the 27-year-old Koulibaly, as Man United chiefs may turn down the massive fees for a player.
Speaking on the transfer figure, ace journalist Duncan Castles hinted that United chief Ed Woodward, look likely to opt for youngsters like Ajax starlet Matthijs de Ligt as a preferred addition.
"I think De Ligt's definitely on Manchester United's list," he said on The Transfer Window podcast.
"You have to be some player at 19 years of age to move to a new country and become the leader of a defence like Manchester United's, which is already weak.
"So he'd [De Ligt] probably be ideal if they were able to sign two centre-backs.
"For example one is Koulibaly, who is high on Mourinho's list of a ready-made player, and then De Ligt as a guy to develop alongside him.
"But then they've got two centre-backs who are development centre-back at the moment, (Victor) Lindelof and (Eric) Bailly, and we've seen the problems they've had developing because of the expectation placed upon them.
"There is a conflict there, in that United as a club want to move towards signing these younger players.
"They talk about resale value being important to them which is bizarre given that Manchester United have never thought about reselling players in the future, but it's something Ed Woodward is conscious of, the transfer fees he can get for players when they leave.
"And the idea of signing a young player who turns into a top talent is appealing to him, but Mourinho's calculation is that is not what the club needs at present."