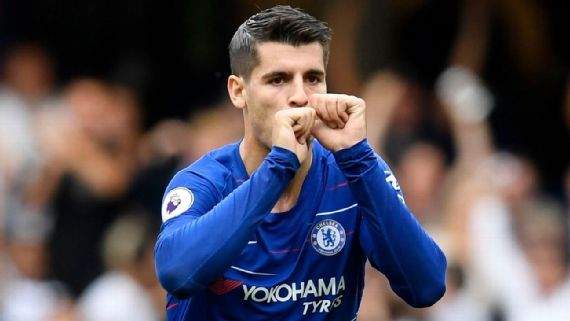 Morata said it takes time to improve, but added that he was better now.
He also said he has overcome the mental torment of his debut season at Chelsea.
Sarri had after Chelsea's 3-1 win over Crystal Palace on Sunday urged Morata to toughen up.
This came after Morata scored a brace in the game.
The Italian gaffer said he was concerned about Spanish forward's mental toughness, while calling on him to continue to improve.
Morata's first season at Stamford Bridge was unsuccessful and the Spaniard revealed he used to blame the rain for missing chances.
"I'm better," Morata told Chelsea website.
"I think no one, only my wife, knows how big the last year was. The injury, it killed me. Now, it's OK.
"In the last month of last season, I was down, down, down, down. I cannot be more down.
"When you touch the limit, the only thing you can do is to come back.
"I had a period where, if it's raining, I'm angry because it's raining. If I miss, it's because the pitch is too wet.
"It was only excuses. It is not good. Everyone can have a bad period in their life.
"But we are famous, we have a lot of things. Sometimes people think we are not human, with no feelings, no problems.
"The important thing is to find the right balance. Now, I have, and I am very happy.
"It takes time. Because I had an injury, I was not fit when playing. But now I feel good.
"The most important thing is that, finally, I have found the right way and my head is OK.
"In football, physical condition is very important, but the head is the most important thing.
"If you don't have the head, if the mentality is not good, then you are in trouble."