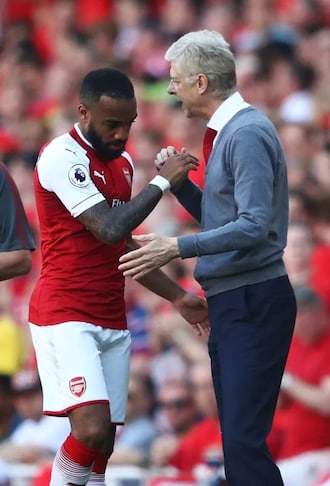 Arsenal's Alexandre Lacazette has commended Unai Emery for his positive impact on the club ever since replacing ex-Arsenal manager Arsene Wenger at the helm.
Lacazette owned up to personally having an extremely frustrating 2017/18 season and admitted that constantly being substituted by Wenger did not help the Frenchman's morale at all.
According to Metro (UK), the French forward, while speaking to Ian Wright on Premier League Today, said that Arsenal's had a different energy about it ever since Emery came in.
"On the pitch, yeah, we feel differently. The coach as well is demanding higher with every player. Yeah I like it. It's the best way to improve, " the Frenchman said.
The 27-year-old owned up to the challenges he faced under Wenger and said that it was particularly mentally difficult to capitalise on his game owing to limited playing time.
"Yes I was disappointed last season I Knew I had to score in one hour. h e said.
"When your'e a striker you want to play all the games and most chances come at the end because defenders are tired ," he added.
Emery unlike Wenger has also granted more freedom to Lacazette in terms of his positioning, allowing him to integrate his own style of play with his team's attacking formation.
Lacazette said that contrary to Emery, Wenger wanted him to stay in the 18 yard box but these days he is able to join in the build up.
"With Unai it is different. He wants me to play my game so do more runs behind and come more in the contribution of the game," Lacazette said.
And one can only wonder whether Lacazette would have made the France World Cup team if Emery had arrived at the Emirates earlier.
Nonetheless, France still won the mundial, so it is really neither here nor there from that perspective.
However, one thing is clear, an 11-match winning streak by the Gunners is no easy thing to accomplish for a first time manager in the English topflight.
Arsenal battle Crystal Palace at Selhurst Park on Sunday, October 28 as they hope to stretch their winning run to 12 matches in all competitions.
They defeat Sporting CP in the Europa League two days back to maintain their top position on the log and maintain their 100% start to the competition.
Legit.ng recall that Super Eagles star Alex Iwobi has expressed excitement to play under the new Arsenal manager Unai Emery next season according to Goal.
The 22-year-old is currently with his country's national team in Austria as they prepare for the 2018 FIFA World Cup in Russia this month.
He came to limelight under former manager Arsene Wenger in 2015, and has been a key part of the Gunners team since then.