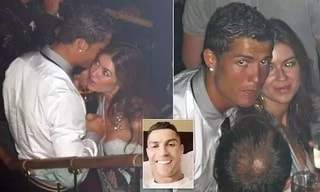 Juventus star Cristiano Ronaldo insists he is confident of overcoming the recent allegation that he forcefully bedded an American woman in a Las Vegas hotel room.
According to a UK Sun report, the Las Vegas Metropolitan Police in the US have commenced investigation after 34-year-old Kathryn Mayorga, alleged the footballer star forcefully, had carnal knowledge of her in 2009.
However, the 33-year-old Ronaldo, who made an appearance at the pre-match press conference at Old Trafford, ahead of Tuesday's Champions League showdown against former club Manchester United, maintained that what transpired on that fateful day was consensual, saying, " the truth always come out".
Speaking further, the Portuguese star Ronaldo revealed that his legal team are on top of the situation.
"We did the statement two weeks ago, I am very happy, my lawyers are confident and of course I am too.
"The most important is I enjoy my football, and my life. And of course, the truth always come out first.
"I know that I am an example, in the pitch and off the pitch.
"I always smile, I play for a fantastic club, have a fantastic family, four kids and I am healthy.
"The rest doesn't bother me, I am very glad. I have people who take care of my life."
Interestingly, the ex-model Kathryn Mayorga reportedly accepted a £287,000 payoff from Ronaldo and signed a gagging order following the alleged attack despite reporting to the cops initially.
However, after making a U-turn, she has headed to the court to seek justice and was recently questioned by the police.
"The case has been reopened and our detectives are following up on information being provided by the victim.
"At the time the report was taken, the victim did not provide detectives with the location of the incident or suspect description. A medical exam was conducted," a statement from the Las Vegas Metropolitan Police Department read in part.