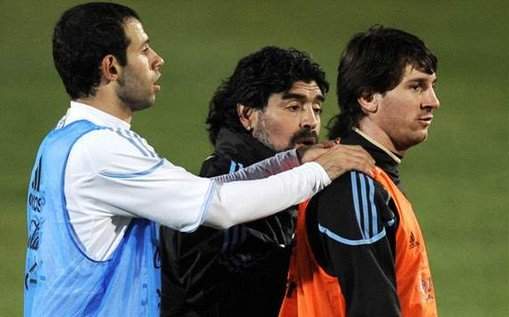 Argentina legend Diego Maradona has urged Lionel Messi to stay away from international football.
The Barcelona superstar wasn't able to help his country avoid crashing out of the 2018 FIFA World Cup in Russia at the second round stage after losing to eventual winners France.
He scored once and assisted two other goals at the global showpiece but wasn't as exceptional as fans would have wanted him to be at the tourney.
Messi has not featured for the Argentine team since they crashed out of the championship earlier this summer and the 1986 World Cup winner says the Barca star should remain absent.
Maradona believes the 31-year-old will be made the scapegoat if anything goes wrong with the team again.
"That's why I am telling him not to come back and take all of the blame ,' Maradona told Infobae.
"We will mourn him because there is no other player like him, but just as Messi falls, so does the AFA (Argentine Football Association). "
Messi was heavily criticised for Argentina's woes in Russia as they struggled from the start of the competition.
Maradona added: " It is very easy to say that Messi is to blame, but they are going to kill the kid .
"And this kills me because if there are comrades who really love Messi, they should have come out and defended him, not press silence .
"I was wrong about Mascherano, I thought he was a leader. Today, I have to say that Mascherano is not what I believed, but that mistake is totally mine, not his."
Maradona is now in charge of Mexican side Dorados and when quizzed about his own future with regards to the Argentine national team, he replied: 'I won't return.
"I'm really looking forward to doing a lot of things here and in the national team there are a whole bunch of traitors, so I'm not going back."
Argentina play Iraq and Brazil during the upcoming international break.