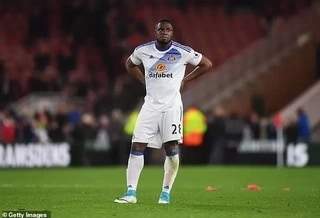 Ex-Super Eagles forward Victor Anichebe dragged his own club, Beijing Enterprises, to FIFA's court over claims of match-fixing.
According to a UK Daily Mail report, the Nigerian international, who previously plied his trade with Premier League side Everton, lodged a complaint to the world's football arbiters that he was urged by the club coach not 'not to try' in two fixtures, including a clash against a rival club.
The Nigerian queried the directives but claimed he was cautioned by teammates that they are not permitted to ask questions here.
"This is China, we do as we're told," the former Sunderland striker was quoted as saying.
Interestingly, Anichebe, who has now sought legal backup, has been on war path with his Chinese club, since the issue went viral last year.
At the moment, the 30-year-old Anichebe is now awaiting FIFA to take action, even though he is expecting the club to deny the allegations.
Already, Manchester-based sports lawyer Chris Farnell on behalf of Anichebe met with the Beijing club's general manager, but no meaningful progress was made as he was ignored on two occasions.
Interestingly, due to the crisis, Anichebe has been denied playing time running into a year, and could have challenged for a shirt in the Eagles squad to the summer World Cup in Russia, had he enjoyed regular club football.