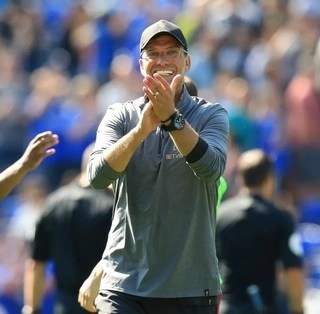 Liverpool manager Jurgen Klopp has declared that the Premier League side will not give PSG superstar Neymar special treatment when both clubs clash in the Champions' League group opener on Tuesday, September 18, 2018.
According to a UK Mirror report, the German tactician is upbeat that his team will hold their own against the Selecao star
However, the former Dortmund boss admitted that Neymar remains a big threat during the Champions' League cracker at Anfield.
"He doesn't have to worry. We don't go for him, we play football, we want to win the ball and we don't try to act in these kind of ways," noted the Liverpool manager as he tried to explain some of Neymar's antics during matches.
"We try to avoid passes to him, we try to avoid challenges and all that stuff. I am not sure if it's possible to avoid his quality 100 per cent.
"He got rested at the weekend so he will be 100 per cent fresh for us. He is not injured any more so we will see the full package of Neymar, the football package. We still have to cope with that, and that's what we will try," he said.
Interestingly, during the summer world Cup in Russia, the Brazilian was repeatedly faulted for by match arbiters.
However, Klopp insists Neymar has lots of potential that he will not consider diving, during the top-of-the-table Champions League fixture.
"I don't think he is a person who wants to act or stuff like that, because if you are like that then you cannot play football how he plays," he added.
"I saw a few games at the World Cup, and I know that people were talking about that it looked like he made a bit more of situations than it was.
"For me, it's a completely normal reaction. Players are really going for him, that's the truth, and he wants to protect himself. I understand that as well.
"If an opponent gets a yellow card then he is much closer to a red card, so I see it from that perspective. It's smart that he saves himself," Klopp submitted.