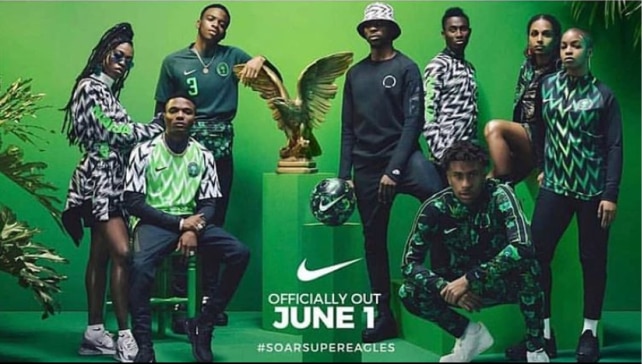 The Russia 2018 World Cup is just around the corner and so is the release of the official Nigeria jersey. The jersey caused quite a stir when it was originally unveiled in February and though many have imitated it, nothing comes near the original. Now, The Nike have unveiled the Super Eagles campaign and it is mind-blowing.


It's official, the Nigeria Super Eagles kit is a huge hit. Out of the 20 jerseys that have been revealed, it has already been ranked the best jersey by 'Mirror Football'.

The Nigeria 2018 World Cup home kit introduces an exciting, dynamic and stand-out design to balance out the relatively understated away jersey which is a plain forest green colour with lighter accents. The Nigeria 2018 home jersey combines bright green, white and black in a chevron print infused design.

The kit is 'audacious, fast, fun and stylish', as described by Nike on their official press release. The home kit is reminiscent the famous '94 strip (which was also the first year Nigeria qualified for the World Cup) and overall, the kit is bound to be one of the most eye-catching at this summer's tournament.


The campaign stars Nike Ambassador
Grace Lado
ja alongside
Wizkid, Not3s,
Super Eagle
Alex Iwobi, Julie Adenuga, Yagazie Emezi
and others.
Pre-order Rumours


The NFF claimed that over 3m had already pre-ordered the jersey, a staggering amount but Nike dispelled that as untrue.

In a reply to a question asked on when the jerseys will be ready, the kit makers stated that the appropriate information about the release of the jersey when available will be communicated through their social media pages and website.

The response on their official Twitter account said, "The jersey has not been released yet, it is scheduled to be available in June. Also, there has not been an option to pre-order the jersey. Stay tuned to our site for updates."