Premier league managers have paid their respects to Arsenal FC legend, Arsene Wenger who is set to bow out of the club after over two decades.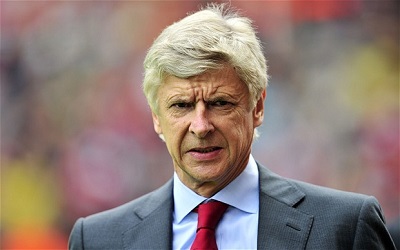 English Premier League top managers, Manchester United's Jose Mourinho, Pep Guardiola of Manchester City, Chelsea's Antonio Conte and Jurgen Klopp of Liverpool have reacted to the news of Arsenal boss, Arsene Wenger, leaving the club.
Recall that Wenger announced, in a statement on Friday morning, that he would be leaving the Emirates club at the end of the current season after 22 years with the club, ending a long tenure that included three Premier League titles.
Reacting, Mourinho tweeted: "I always wish the best for my opponents. If he looks forward to the next chapter of his career in his life, I'm really happy for him."
On his part, Guardiola wrote on Twitter: "Arsene Wenger has all my respect. The Premier League is the Premier League now because of Arsene Wenger and what he has done, his vision and respect for football. I wish him all the best in the future. Of course it was a pleasure to compete against him."
Reacting, Conte tweeted: "I think we must pay great tributes to Arsene Wenger for his career at Arsenal. Him and Ferguson, we are talking about the last two managers to stay for such a long time in a club. He worked 22 years for Arsenal, it is great. It is fantastic".
On his part, Klopp called Wenger "a role model".
The Reds' boss said this while speaking at his press conference before Saturday's trip to West Brom.
He said, "I admired his work always, it was always brilliant".
Meanwhile, former Chelsea manager, Carlo Ancelotti has emerged favourite for Arsenal manager's job following Wenger's Friday resignation.