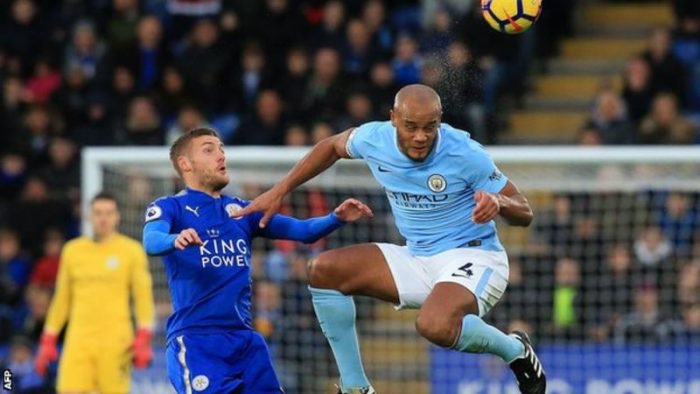 Manchester City boss Pep Guardiola says it could be a "risk" to play defender Vincent Kompany when Feyenoord visit in the Champions League on Tuesday.
City, qualified from Group F, face 12 games in the final six weeks of 2017.
Kompany, 31, returned from a calf injury in Saturday's 2-0 win at Leicester, but Guardiola lost centre-back John Stones to a hamstring injury that could keep him out for six weeks.
"We don't have a big squad," Guardiola said.
"To win the titles we need all the squad, especially important players like John and Vinny.
"We have to play 12 games in a short space of time with only three central defenders, and one of them is a risk in Vincent, who is only just back."
City are unbeaten in 18 games in all competitions this season and lead Group F with four wins from four.
They will secure first place in the group if they win and Shakhtar Donetsk do not beat Napoli.
Maurizio Sarri, Napoli's head coach, and Leicester boss Claude Puel have both said that Guardiola's side are the best in Europe.
"For Manchester City, a team that still needs a history in Europe, it is a big win," said Guardiola.
"That doesn't mean we are favourites to win the Champions League but it's nice. It means we are doing some things very well.
"But obviously people usually say the favourite teams are Barcelona, Bayern Munich, Real Madrid and others. But that people put us there, is a big honour. That does not mean we have done anything, because we haven't."