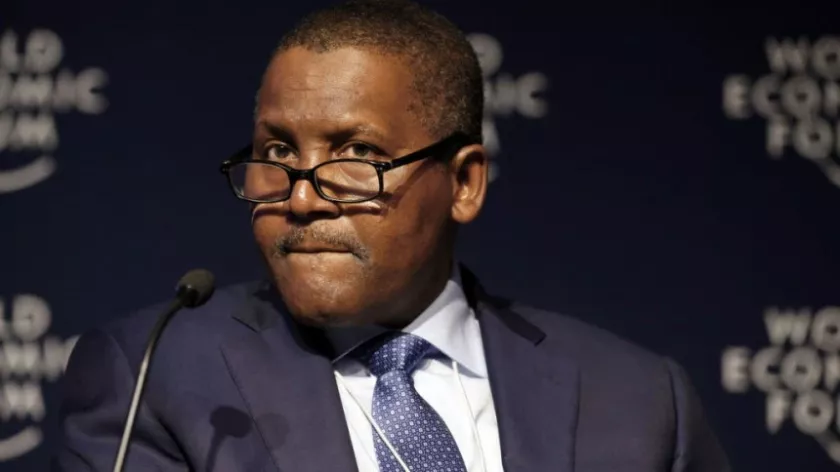 Nigerian billionaire and President of the Dangote Group, Aliko Dangote, has reiterated his plan to buy English Premier League giants, Arsenal. Dangote said he would make an offer to the owner of the club, Stan Kroenke, after completing the new refinery that his group is building in Lagos.
The Kano-born businessman, who is worth £8.6billion, has supported the Gunners since the mid-Eighties.
He told Bloomberg: "The first thing I would change is the coach. He has done a good job, but someone else should also try his luck."
FL- You've mentioned wanting to buy Arsenal Football Club before. Is that still on your wish list?
Dangote: Yes, but I don't want to go after Arsenal until I deliver the refinery. Once I deliver, I will go after Arsenal.
FL - There are no other clubs you'd want to buy?
Dangote: I don't change clubs. Even when Arsenal isn't doing well I still stick by them. It's a great team, well-run. It could be run better, so I will be there. I will wait. Even if things change I will take it and make the difference going forward.
FL - Do you think Stan Kroenke and Alisher Usmanov would sell their stakes?
Dangote: Well, you know anything is possible in this world. If they get the right offer, I'm sure they would walk away. We'll be in a position to give them the right offer. They will not hold ­Arsenal forever. Someone will give them an offer that will make them seriously consider walking away. And when we finish the refinery, I think we will be in a position to do that.
The Dangote Group is scheduled to complete the construction of its refinery in Lagos, reputed to be potentially one of the largest.