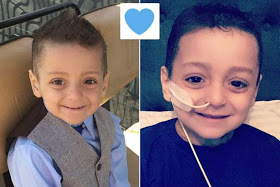 Six-year-old football fan Bradley Lowery has tragically lost his battle against cancer. Bradley touched the world of football and beyond through his brave battle to overcome neuroblastoma, a rare cancer that mainly affects babies and young children.
After being diagnosed at just 18 months old, he went on to capture the hearts of the nation by bravely smiling through his gruelling fight against the disease.
A statement on his Facebook page read today: "He was our little superhero and put the biggest fight up but he was needed else where.

"There are no words to describe how heart broken we are. Thank you everyone for all your support and kind words.
"Sleep tight baby boy and fly high with them angels."