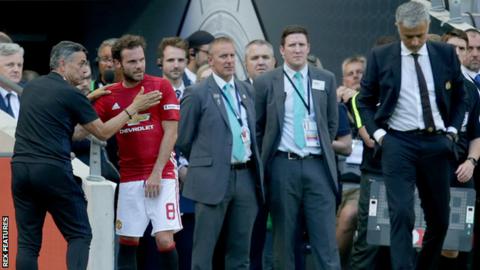 Substitute Juan Mata was replaced in Manchester United's Community Shield win "because he was the smallest player", boss Jose Mourinho said. Mata,sold by Mourinho to Unitedwhen at Chelsea, looked unhappy tobe taken off 30 minutes after coming on in the 2-1 win over Leicester Cityat Wembley.
"I needed to take off the smallest player because we were expecting alot of long balls," Mourinho said.
But BBC pundit Danny Murphy said the decision was "embarrassing" for Mata.
"You don't do that unless you are trying to send a message," ex-England midfielder Murphy said.
"They have a lot of history at Chelsea and he has embarrassed him in front of his supporters and his family.
"He is basically saying to him you are not important and he has done it publicly. I can't see him still being at the club at the end of August."
Midfielder Mata, who is 5ft 7in tall, was sent on in the 63rd minute in place of goalscorer Jesse Lingard, with the score 1-1.
He was replaced 10 minutes after Zlatan Ibrahimovic's 83rd-minute winner by 5ft 10in new signing Henrikh Mkhitaryan.
Mourinho put his arm around Mata when the Spaniard came off three minutes before the final whistle but the former Valencia player looked unimpressed.