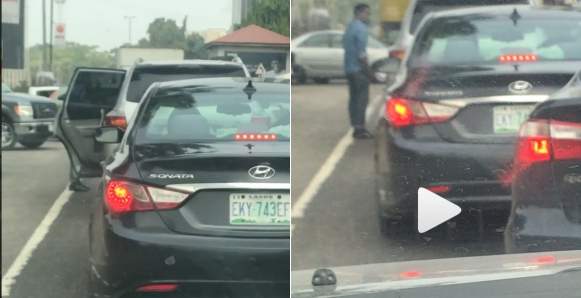 An Instagram user identified as Lanre Onipede (@elbama1), has taken to the social networking platform to share a dramatic moment which happened in the Ikoyi area of Lagos, as captured on camera.
According to Lanre, the mild drama occured after a visibly disgruntled driver got down from his female boss' car and began to shout at her in public at Kingsway Road in Ikoyi.
The verbal assault went on for quite a while and when the boss got down from the car and attempted to get her car key back from the driver, he refused to give it back.
Lanre shared the video and wrote:
Omo that's how the driver got down from the car today on Kingsway Road, initially I thought the car behind hit him but nope, his madam had frustrated him so much he started raking for her o, she even got down from the car and asked him for the key but he refused to do so. lol
Onipede did not however disclose how the drama eventually ended, but the video has since sparked a lot of reactions online.
Watch the dramatic moment below;