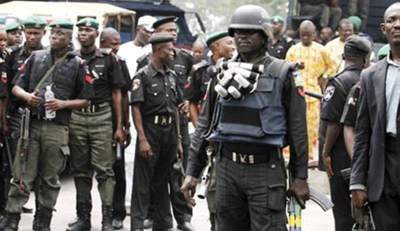 Ebonyi has been described as a State with the lowest crime rate within the Zone 6 jurisdiction of the Nigeria Police Force.

The new Assistant Inspector General of Police in charge of Zone 6, Calabar, Samuel Ogunjemilusi, made this observation on Tuesday in Abakaliki during his familiarisation tour of the Ebonyi State Police Command.

Addressing officers and men of the Command as well as other stakeholders who received him at the headquarters of the Command in Abakaliki, the AIG noted that inasmuch as there was no society without certain elements of criminality, Ebonyi State has shown steady atmosphere of peacefulness in recent times.

Ogunjemilusi attributed the development to the cooperation of the Government and people of the State as well as the leadership ingenuity of the state's Police Commissioner, Musa Kimo, and his team of experienced officers in the command.

He warned politicians in the State never to breach the peace by engaging in any form of militancy even as the 2019 general elections are around the corner, adding that the concept of "federal might" would not be tolerated in the State.

He reaffirmed the commitment of the Nigeria police to remain neutral during the elections while providing adequate security for the exercise. Ogunjemilusi solicited the cooperation of all and sundry to make the exercise both peaceful and successful.

He further urged the electorate to make effective use of their Permanent Voter Cards to elect candidates of their choices during the election, adding that their power lies in their PVC's.

While commending the officers and men of the command for their hardwork and cooperation with the police commissioner, he cautioned them to be civil in their relationship with the people they were meant to protect.

Ogunjemilusi emphasized: "There is no society without incidences of crime but that in Ebonyi is at the barest minimum.
"The atmosphere is generally peaceful and people go about their businesses without fear.
"I am warning politicians in the state against resorting to thuggery and violence during the 2019 general elections as there will be nothing like 'Federal Might' in the state during the election."

Kimo, while thanking the AIG for the visit, assured that the command would intensify efforts towards retaining it's good criminality rating.

He said: "The Ebonyi command would re-double its efforts to chase criminalsfrom the state and guarantee a peaceful atmosphere especially duringthe 2019 elections."

In their separate remarks, the state Chairman of the Police Community Relations Committee, Peter Oba, represented by Chief Chizoba Cyprain, as well.as the leader of the Hausa Community in the state, Alhaji Danjuma Gambo, thanked the AIG for the visit and assured of their unwevering support in reducing crime and ensuring peaceful co-existence in the State.

Police Zone 6, which has its headquarters in Calabar, comprises also of the police commands of Rivers, Cross River and Akwa Ibom States.