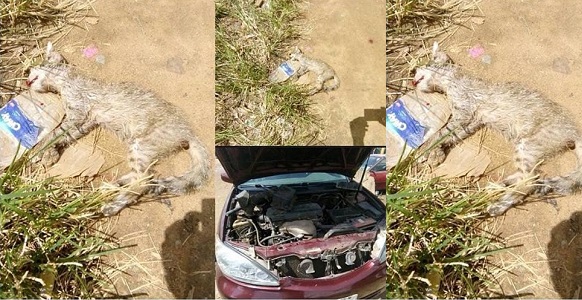 According to trending report, a witch which reportedly disguises as a cat, was k-illed yesterday morning, in Oke Afa area of Lagos State, after it was spotted in the bonnet of a car taken for repair at a mechanic workshop.

The 'witch' was killed by its 'victims' after the mechanic raised an alarm after spotting it sleeping peacefully inside the bonnet, claimed that they had been having many sleepless nights due to the evil manipulation of the cat.

The incident brought many residents of the area to the scene. Here are photos below;

In an interview few years ago, Chief David Edebiri, the Esogban of Benin Kingdom in Edo State, who oversees operations of witches and wizards among other traditional functions spoke to Vanguard's Niger-Delta Life on his role as the "departmental head" of witches and wizards in the monarchy.

Power of witches

Chief Edebiri disclosed that unknown to many, witches run government and once they make decision, it is binding all over without the people knowing how. The Bini chief, who recalled that witches were very vicious before now in the kingdom, said a traditional parliamentary action was endorsed by "our great, great grandfathers" to put together a group, which he (Edebiri) is presently the leader, to tame their excesses.

Deactivation of witches
He said: "What I am doing as the Esogban is a social service to the community. It was enacted by our great, great grandfathers. When you hear of witch-hunt in England, France, if anybody is suspected to be a witch, the person will be burnt alive and destroyed, similar things were happening here, but the elders now said no, instead of killing these people or sending them to the evil forest, why not look for a way to reform them and bring them back to the society."

Higher power

"I think that was why this structure was put up. It was a legislative action for social development of the people. When these people come here, because of predominant superior power, they confess that they are witches or wizards and confess all the destructions that they have been involved in," Edebiri asserted. His words, "Then we look for a way to discipline them. You cannot remove them from being a witch or wizard, but after coming here they can be disabled from committing havoc or using the power for any dangerous thing.So when these people were brought like that and they were disabled, they will be taken back to the society and no one will call them wizards again. First, their coven will not admit them anymore, secondly that power has been completely taken away from them."

How I acquired my power

Asked where he acquired the authority he uses to tame suspected witches and wizards, Chief Edebiri, "Ah, it is the power of God Almighty and that of the Oba of Benin (laughter). We have averted much havoc that these people would have caused in Benin Kingdom."