A residential skyscraper has gone up in flames in broad daylight, causing serious panic among residents.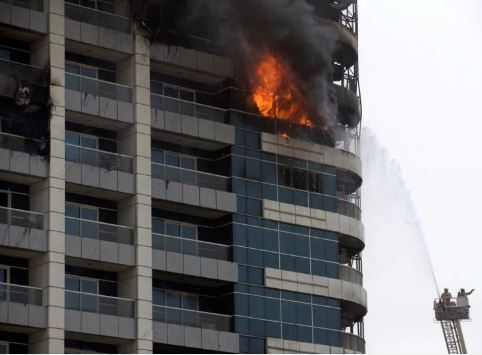 A massive fire has erupted in a high-rise tower in Dubai as a sandstorm swept through the city, Metro UK reports.
Terrifying footage taken by someone in a passing car shows the fire raging through several lower floors, while other pictures show it spreading to floors higher up.
The Dubai Media Office said the blaze started early this morning at the residential Zen Tower in the upmarket Marina district. It said residents have been evacuated and there were no injuries immediately reported.
It's unclear what started the fire.
The skyscraper-studded city has suffered a spate of fires in its high-rises. Dubai passed new fire safety rules last year requiring buildings with quick-burning side panels to replace them with more fire-resistant cladding.
Authorities have previously acknowledged that at least 30,000 buildings across the United Arab Emirates have cladding or panelling that safety experts say accelerates the rapid spread of fires.
Watch a video showing the fire below: